We are well and truly in the thick of winter adapted to adding the extra layers in our dressing routine. Stockings, base layers, outer wear. It's a daily wardrobe battle that requires you to allow a little extra time to get dressed each morning.
Our resident models Audrey and Steve have it sussed this season! They keep it stylish for the office by keeping it simple. So, if you're looking to dress your corporate staff for the cold or just want to get some ideas for your winter capsule wardrobe – start with shades of grey. In winter, grey is the new black and if worn right can look even more elegant than its colour cousin noir. For those that prefer dark, try charcoal as a happy medium to complement brighter hues better than black.
Audrey
A great way to brighten your corporate look conservatively is with just one piece of colour. In Audrey's case, she's wearing a bold red knit over her micro houndstooth uniform shirt. The shirt is black and white, but it's textured look makes it look like a soft grey – very striking. The knit is the statement piece and holds the outfit together nicely. There's nothing better than the feeling of covering any imperfections in your shirt with a nice knit over the top.  She's teamed the look with a sateen cotton charcoal straight skirt and matching jacket.
Steve
Her full-time colleague Steve ties his look into hers with the same houndsthooth style shirt – but in red. The shirt design is the key garment to make them match. Uniforms don't need to be all the same. It's about the right collection of complementing colours and quality pieces that are acceptable within your company culture and dress code.
Steve can choose to wear a red wool knit if he wants to but prefers to just match his shirt with a wool grey suit instead. And doesn't he look handsome.
Shop Steve and Audrey's look below.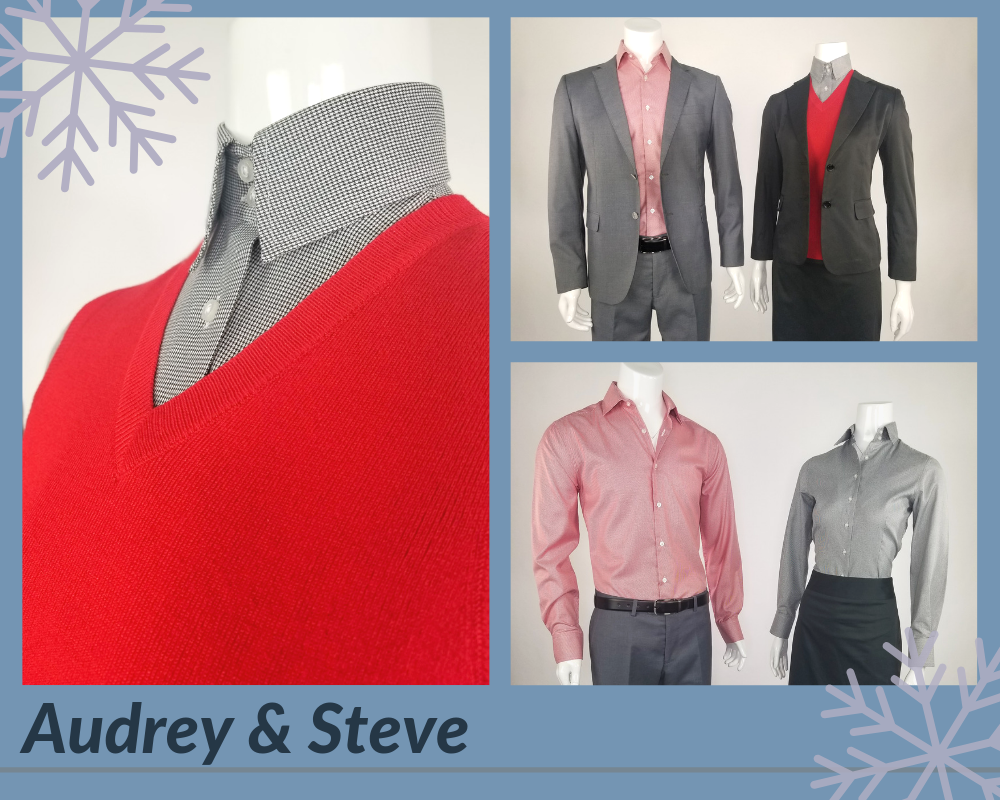 SHOP THE LOOK
Audrey
Women's Black Houndstooth Shirt
Women's Charcoal Cotton Sateen Jacket
Women's Straight Skirt Cotton Stretch
Steve