Photo credit: Memorandum
From the catwalk to the office, checks reign this season. Stripes are not as popular as once seen and checks are in. This Autumn/Winter, checks make a great choice to ensure your outfits are completely on-trend. But, how to do make sure this trend makes you look chic and not table-cloth inspired? We share our cheeky check tips with you.
When did this trend start?
Checks have been in and out of fashion for decades. From gingham dresses to traditional checked shirts, the print has come and gone. In the 80's checks were feminine, in the early 2000's they were a staple of any working man's wardrobe. This newest revival seems to have appeared last Spring/Summer in the U.K and Europe and it has finally made its way down under. In recent London fashion weeks, checks featured in brands from Versace to Marc Jacobs. Checked blazers, dresses, trousers and shirts – you name it, checks were on it!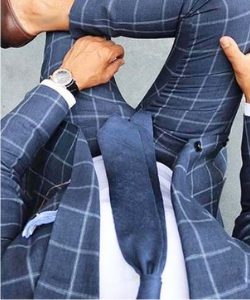 Why we love it!
Checks are great because they are fun and versatile. Wear a checked pair of trousers to the office by day and dress them up with heels at night. Unlike stripes, checks can come in a wide variety of sorts. From small houndstooth style checks to large tartan checks and everything in between, there is something for every piece and every occasion.
How to wear it?
Here are our top three ways to rock checks this season.

Checked shirts a classic choice for shirts, get on this while it is trending! Checked shirts are no longer just for men either, more and more women are opting to try this print. The cuts of shirts are transitioning for women too. Whereas a few years ago formed fitting shirts were the regular choice for women, now 'boyfriend' style shirts in a looser cut are more popular. A chic shirt in a loose cut is a sure-fire choice for elegant office wear.

Checked trousers for both men and women are back in fashion, big-time. To avoid looking overly retro, try mixing and matching with a plain coloured suit jacket or shirt. Our top tip – bigger checks are more flattering for women!

Accessories
Don't be afraid to try accessories! Checked scarves, ties, cravats and headbands are all the rage, at the moment. Learn a thing or two from those catwalk models – try a colourfully checked headscarf for your next winter-time party(or big meeting!) Checks are subtle enough to make accessories look mature and professional.
Avoid table-cloth syndrome
Checks can be overwhelming. Here are some easy pointers for getting it right every time:
Experiment with size. Different sized checks will be flattering on various people.
Combine checks with plain colours to balance out the look.
Never mix checks and stripes. Although, occasionally checks and floral prints can look good together!
Subtlety is key. Go for toned down colours in your checks, rather than bold and bright.
Never go too small. Very small checks are not stylish, right now.
For classic elegance, try bright red lipstick with black and white checks.
We would love to see how you're incorporating checks into your wardrobe? Are you wearing them on a weekend away? In your everyday outfits? Or, perhaps you reserve them for the office? Let us know! We love this trend, do you?