If you think business shirts belong just in a man's wardrobe, think again! The business shirt has made a statement in women's wardrobes and is one of our favourite feminine work looks. With so many ways to wear and style, a business shirt is a great piece to grab and put on in the morning for work. We have compiled a list of our favourite ways to rock a business shirt. . .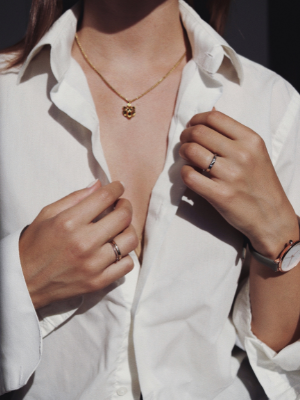 Sleek and Smooth
Particularly for corporate environments, a sleek, smooth, and beautifully fitted business shirt is a timeless styling option. Paired with an A-line skirt and a simple heel, this look speaks feminine and professional. Make sure to find your perfect fit – nothing ruins an outfit like an ill-fitting business shirt.
Throw in a contrasting fabric in the button placket, collar and cuff. Add, a pocket or two, and even roll up tabs to your sleeves. Keep it classic or add some modern features if you must. Our range of custom shirting allows you to choose your own finishing features and even add a contrasting fabric to the collar, cuffs, and placket. You can now purchase our custom shirting online here.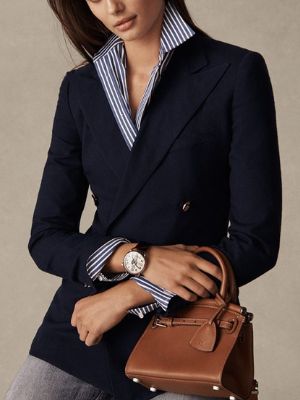 Layered Up
In the cooler months, a business shirt is your number one go to. Layer underneath a jacket or coat and accessorise with a chunky scarf for a chic winter look that sees you from home to the office. This look is also awesome for knock-off drinks or post-work dinners, where you can let the outwear either turn up the professionalism or give a more casual vibe. We particularly love a business shirt layered underneath a blazer with the sleeve cuff rolled up and on the outer for a cohesive and fun styling option.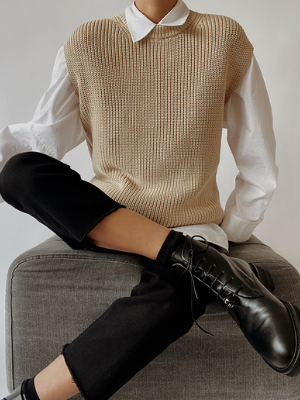 Shirt & Vest
An emerging European style is the business shirt layered under a knitted vest. This makes another great winter option. Play with colours and materials to find the right layering combo for your workplace. This styling method works with a clean fit business shirt, as well as a slightly oversized shirt teamed with a more loose fitting knitted vest for a more modern casual look. Or embrace the look preppy with a tailored shirt under a long sleeve fitted pullover/cardi knit. Just add reading glasses to complete the vibe.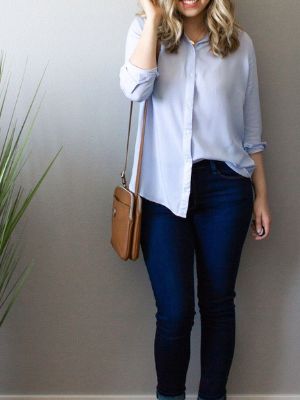 The Half Tuck

The half tuck is styling made easy. Opt for a fitted bottom option, like a sleek skirt, chino or trouser, and a business shirt that fits well but has some space through your torso. Tuck a corner into your bottoms, and gather and style to create an effortlessly chic look.

The Full Tuck

For an extra sleek and professional look, tuck a well-fitted business shirt in all the way. On trousers, chinos or with a skirt, this look is complemented again with a thin leather belt. This is a great styling option for ultra-corporate workplaces or events. Plus, it is a flattering and chic option for any occasion and suits almost all female body shapes.
Easy Breezy
If you're in a more social and casual workplace, we love the layered easy breezy business shirt look. Layer an open-buttoned business shirt over a well-fitted singlet or tee. Colour block with different tones and patterns to add personality and flair. This styling looks great with a slightly oversized business shirt.
With these simple styling tips, we're excited for you to explore your business shirt styling for work. You will find this classic wardrobe piece an item you reach for again and again right through from Monday to Friday.  
Contact us or simply shop online. 
Buy online, or if you need over 20 units for the team then contact us for the full uniform service.