No matter the season, style, or situation, can you ever go wrong with a blouse? The answer is no! From the office to a night on the town, the humble work blouse is every woman's must-have wardrobe essential. To keep it versatile and exciting for your Monday to Friday, here are our 6 ways to rock a blouse at work: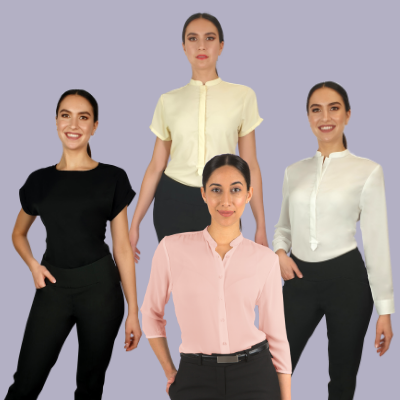 Get Colourful
Who said a work blouses for women can only be white or black? We couldn't disagree more! Spice up your wardrobe with different blouse styles in a range of colours and patterns. Colours are a great way to add individual style to your work uniform, whilst complementing your features and other workwear clothing. We love pink, coral and teal for a fresh summer look, and navy, ivory and purples for the cooler months.
Mix and Match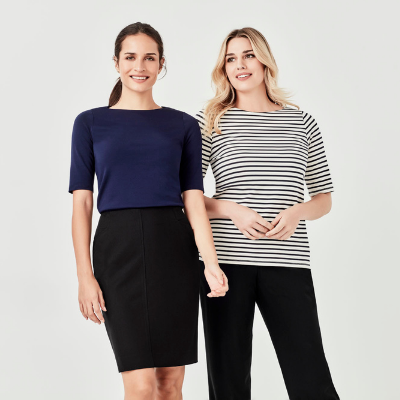 Approach your work outfit in two halves – the top and the bottom. Treat your bottoms as the canvas and your blouse as the paint. Look for practical and timeless bottoms like black dress pants, neutral skirts and on-trend culottes to complement blouses in different cuts and colours. Our favourite pick is a high waisted skirt with a half-tucked blouse in a light and complementary colour.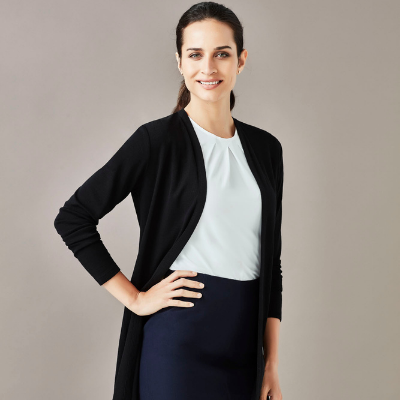 Layering
For effortless year-round styling, make your office blouse look seasonal by layering. Achieve a functional yet trans-seasonal look with winter staples; think cashmere sweaters, vests, cardigans, and coats.
To tuck, or not to tuck?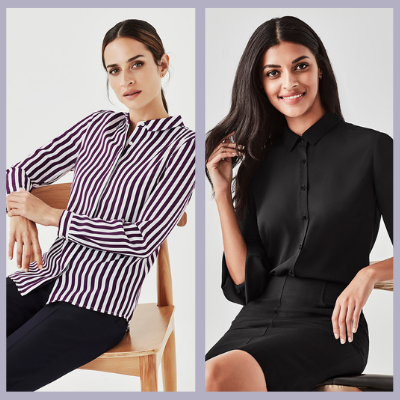 It may sound trivial, but the difference between a tucked or untucked blouse can completely shake up the feel of your outfit. If you want a clean and uniform look for work, keep your blouse tucked into a pair of professional slacks or a skirt. However, tone down the look whilst keeping it chic by wearing your blouse untucked, or even partially tucked, which adds a flattering shape without looking too rigid or too casual.

Sleeve Expression
Depending on where you live (or how powerful the air conditioner is!), practicality should be your number one work uniform consideration. Blouses are a great determinate of temperature comfort. A short sleeve offers unrestricted movement for warmer weather without compromising on professionality. Similarly, a long-sleeved option gives that extra warmth, but can be styled ultra-corporate or cool and casual depending on your accessories.
Accessorise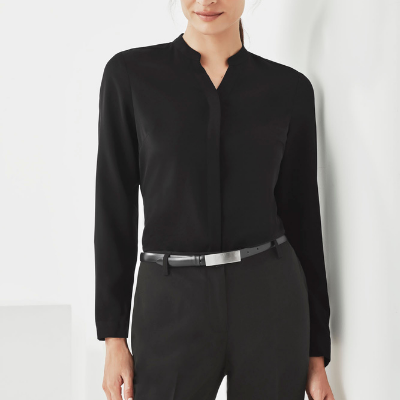 Express your own flair to your work wardrobe with accessories. A blouse doesn't have to be just a plain staple. Let it be the foundation block in building your accessorising. Tuck your blouse and add a belt for shape and style. Add a colour pop with a scarf. Complement a round or V-neck blouse with a necklace. Allow your personality to shine through your work wardrobe and how you accessorise..
At the Uniform Edit we offer a custom blouse program that allows you to choose from a great selection of colours and styles, then add your logo. We also have an endless variety  of off the rack styles. Contact us to find out more.