Ladies, winter has arrived! It's time to elevate your trouser game. While we love to throw on our favourite jeans all winter long, this isn't always appropriate at the office. For the guys, all they know is pants. But for women, finding the right fit can be a daunting task. When it comes to pants there definitely is no one size fits all. At the Uniform Edit, we offer the most comfortable women's work pants for all body shapes. We have created a guide to help you get your perfect pair of corporate trousers. But first, lets point out the obvious and define the "right fit" for corporate pants.
Crotch Fit
While no one wants a camel toe or pulling lines across the front, a loose crotch pouch where it hangs too low at the front is not ideal either. This can be tricky with trousers, but the right fit horizontally and vertically will solve this issue. The differences in the image below may seem slight, but after a day of walking and sitting around in these trousers you will noticed the difference.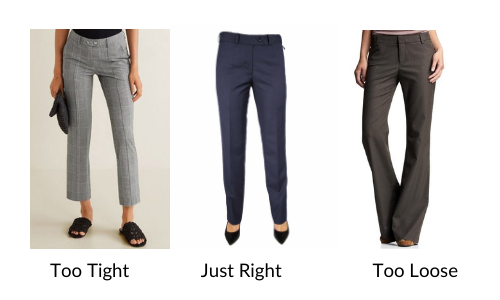 The Backside
Every woman's focus when fitting for pants, "how does my bum look in this?" That's why we've used animations to illustrate this so you don't go comparing your bum to the photographs. Wedgies won't work for anyone, but neither will a saggy butt line. Generally, you want to aim for a fit that doesn't allow you to see your panty line, but you also don't want to see drag lines running down the back under your bum because they're too big.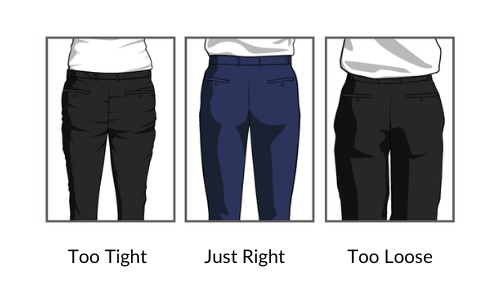 The Waistband
Hanging too far below or above the waistline is more for fashion. In a corporate setting you need comfort. Nothing too low or too high.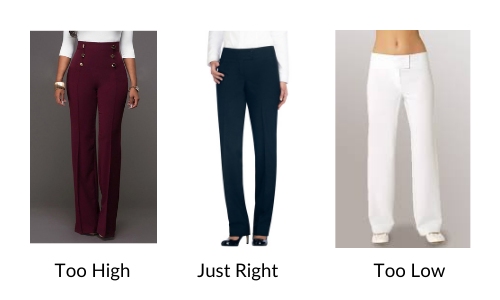 Our Female Fits
With our selection of comfortable women's work pants to choose from, you will be sure to find your nicely balanced fit. Here are some of the fits and styles available in our uniform menu.
Ultra-Comfort Waist Pant
Sits above waistline with a higher rise and slightly tapered through the leg. It has an elastic waist band for extra stretch and comfort. A great pant for functional roles. This is our more universal pant if you prefer comfort over a well-fitted slimline pant. It's suitable for many body shapes.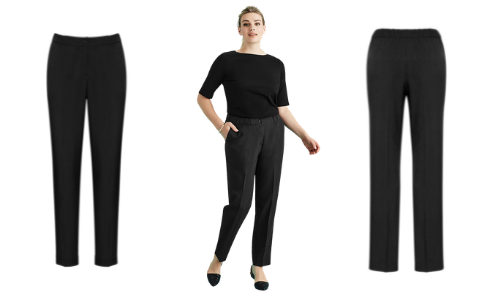 Slim Leg Pant
A mid-rise pant that sits slightly below waistline, tapered leg and narrow leg opening with handy hem splits. If you suit slim leg pants, these are the most stylish and modern fit of them all.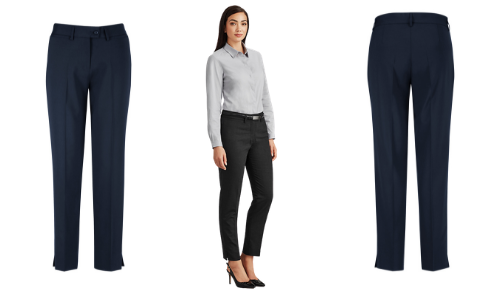 Relaxed Fit Pant
Mid-rise waist with the waistband designed to sit comfortably just below the navel. Horizontal front pockets and one back pocket. Wide through the leg and shaped waist band for extra support. While anyone can choose the relaxed fit, this is a great style for the fuller figure.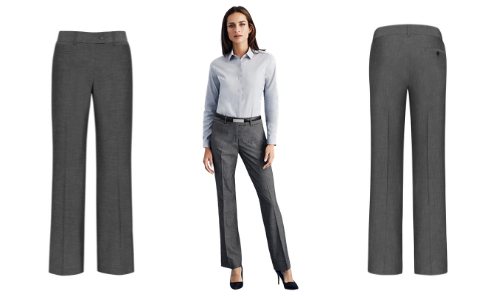 Bandless Slimline Pant
The bandless waist band for smooth finish with fusing on the waist to provide extra support and structure. Tailored from soft fabric in a flattering slimline shape that's streamlined with pressed creases through the front. Suitable for both functional and corporate roles. This is also ideal for pear shaped figures.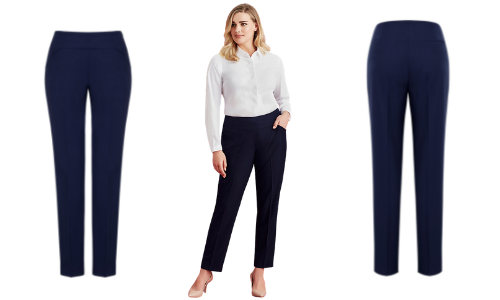 Adjustable Waist Pant
One of the more popular styles with a hidden elastic waist that provides extra stretch and deep front pockets. Straight through the leg and opening. Perfect for all job roles and those in-between sizes.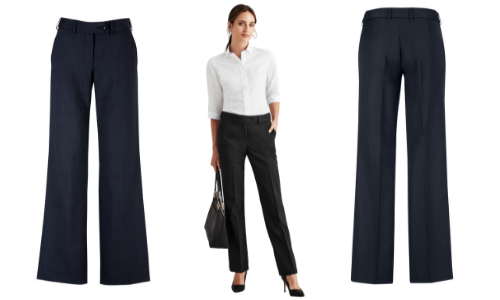 All the above fits are available in the Siena suiting, comfort wool stretch, cool stretch suiting and textured yarn dyed suiting ranges. There are more fits available including  culottes and maternity pants. 
Our Custom Suiting Trousers
At The Uniform Edit we have a custom suiting program that allows you to get suiting trousers or chino pants choosing from a large selection of our wool blend and cotton fabrics. The women's flattering classic trouser is a modern cut, fitting neatly at the waist with a straight leg finish.
What makes our pants great, the fabrics have slight stretch using a small percentage of elastane that allows or a better fit with less pulling than a woven non-stretch suiting fabric. There is also an internal flexi waist for comfort. They come with multiple pockets – including, two side pockets, one back pocket and a small front coin pocket.  Another stylish feature is the pocket trims you can get in a contrasting colour fabric to highlight your brand.