You asked for it! So, we got it for you! But before we reveal the surprise let's talk a little about a corporate dress of ours in particular – the shirt dress. The Uniform Edit has always made shirt dresses, and have worked to continually improve them based on demand for comfort, more flattering fits and better features. The idea of the shirt dress originally for us was to give our female customers the ultimate corporate dress in our amazing pure cotton shirt fabrics. Previously famous for our shirting expertise, we needed to make something more feminine for the ladies. The shirt dresses were basically a women's shirt but with added shape for the hips that went to the knees or mid-calf. Like the shirts, you could choose the style of collar, cuff and add features like a contrast in the collar and placket. But as you know with pure cotton, as incredible as it feels to wear on the touch of your skin, doesn't have much stretch in it which is more ideal around the bottom half. So, we developed a blended fabric still in a great quality cotton, but in a sateen weave finish with 3% elastane for that little bit of stretch needed for movement to make the perfect corporate dress.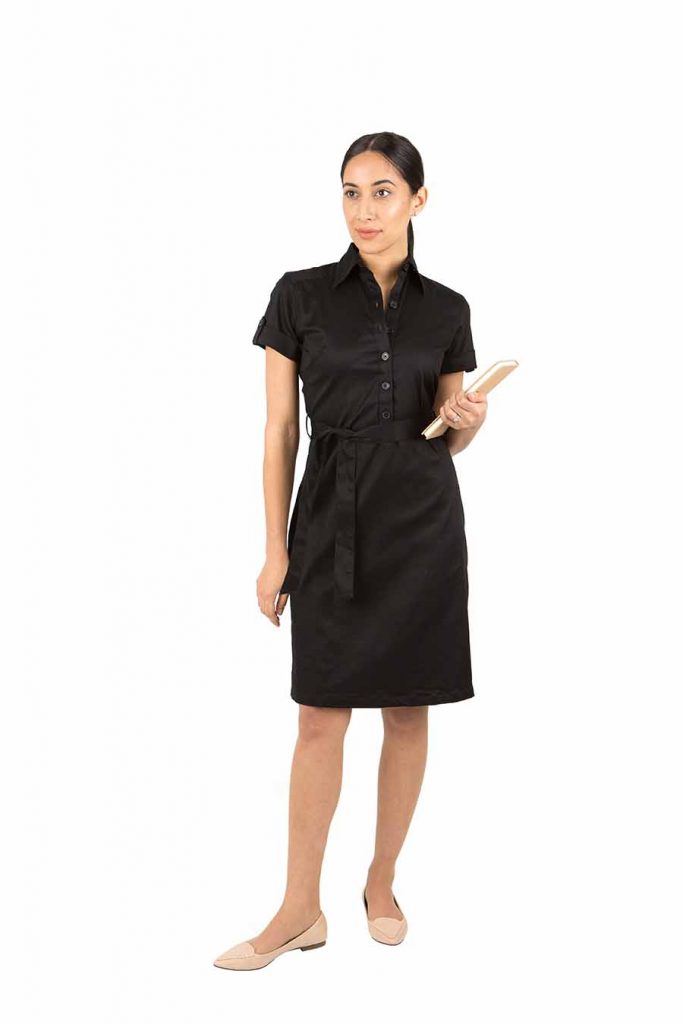 The next big change to our shirt dresses was the option for a half button up style on the top half leaving the rest as full skirt around the bottom, still with a tailored fit but sitting loosely on the hips for much more comfort as a corporate dress uniform.
These changes boosted the popularity of our shirt dresses. Now famous for being one of the best uniform shirt dresses available, we have again made another improvement. We listened to our customers and tested this new feature. It's a relatively small change but makes a big difference! The Uniform Edit has just released the new style corporate dress WITH POCKETS! Yes. But we didn't just add pockets. We made sure the design didn't make the dress lose its shape and made them a practical size for your hands and your smart phone!
Not only are they handy to hold your phone, cards, pens, tissues and maybe even a few chocolates. They look cool as hell when you rest your hands in them while stationary, or of course for that Instagram pic!
You want it. You got it! Our shirt dresses can be ordered with the other usual features including contrast fabrics of your choice in the collar, cuff and placket. As well as a reversable belt, and desired length or sleeve style. So, if you want to give the ultimate corporate dress a try, give us a call.   Contact US
Watch our new shirt dress review video