We spend most of our daylight hours at work all week, so why do many of us wait for the weekend to be in fashionable form. If your company has a uniform or is considering one, it's usually for branding purposes or to keep dress codes under control. That's not to say only weekends are meant for real fashion. We won't rattle on about the pros of a uniform in this blog, but we will encourage you to see how the term "work appropriate" has evolved. Uniforms are now impressively fashionable enough to keep the boss and the team feeling dressed in style.
Below are five categories of stylish corporate uniforms, which at least one of these looks should rock your corporate wardrobe world.
Classic and Conservative
This is the classic shirt, suit and all the trimmings – The kind of style acceptable by any interview standard. It's perfect for that important meeting with the boss or valuable client. This kind of uniform follows all the rules, and if done right is the ultimate head-turning corporate wear. There's nothing more stylish than a timeless classic. Think wool suits for men, maybe even a three-piece. Women with classic business shirts and accessories to match. The length of ties, sleeves and skirts are all within those strict guidelines, even suitable enough for church. What makes this one of the most stylish corporate uniforms is the quality of the fabrics and the ability to mix and match hues and textures. Give it even more old school charm with French cuffs and cufflinks.
Casual and Comfy

Let's visit the other end of the corporate fashion kind. Think branded polos or t-shirts mixed with chinos, shorts or even your own jeans. This look is becoming much more popular in workplaces so staff are comfortable and less distracted by fashion. It's also great for casual days, corporate sporting events or a small team that has an all-round casual culture that suits their service or product offer. If it's cold, give them a puffer vest or zip-up jacket. Unless you work for a sleepwear or athletic-wear company, this is the ultimate in casual stylish corporate uniforms.
Day to Night Appropriate
When a mid-week event is on, most of us don't have the energy to go home after work and start again, rushing to get ready by 6 pm. If workplaces can offer their crew the right corporate wardrobe to allow a smooth transition from day to night, there's no reason not to rock their stylish corporate uniforms outside work hours. This is especially good for work-related events straight after knock-off time.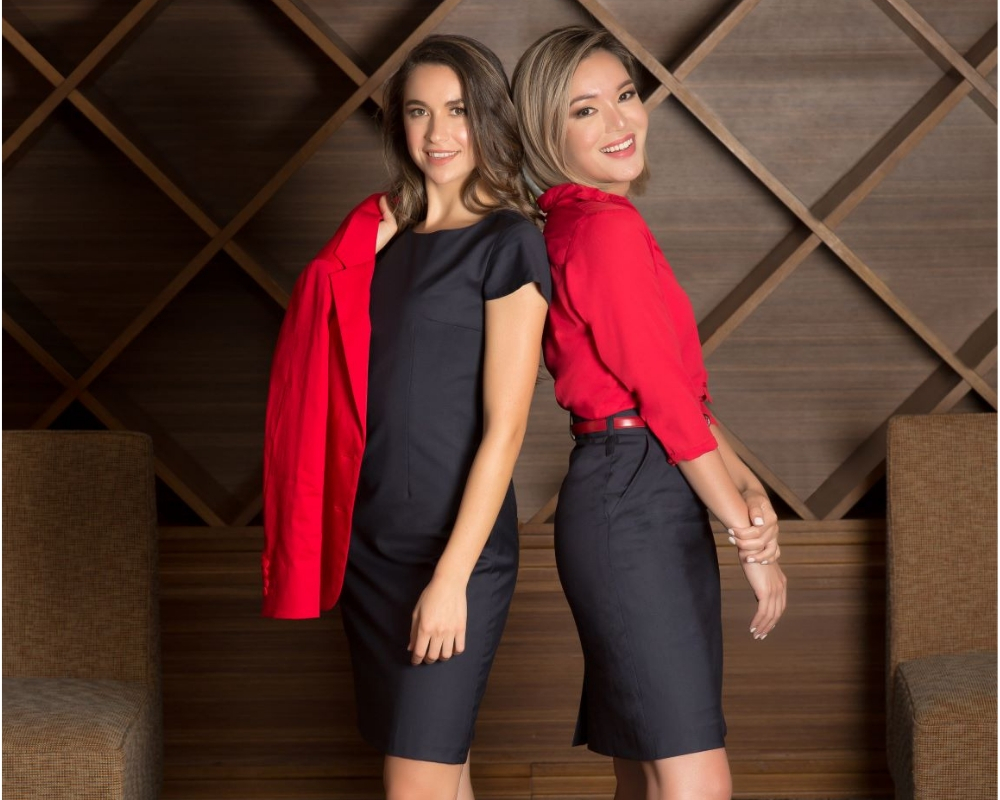 For women – shirt dresses, pencil skirts with blouses and straight dresses are perfect!
Change your handbag and shoes, touch up your lippy and throw on some statement earrings. For men – already in wool trousers and a modern collared shirt, just change up the jacket or lose the tie. It could even be the complete classic and conservative look with a shoe change, minus the jacket to show off the collared vest. This kind of look would be interpreted differently to everyone depending on where they were heading after work.
Edgier Styles

The kind of stylish corporate uniforms suitable to those with bolder tastes. It pushes the "workplace appropriate" boundaries a little but not enough to be excluded from the corporate uniform category. Think bright hues and brave mix and matching (or clashing) efforts. While this isn't for everyone, it is a look you might see worn by a lot of modern businesses these days. A great selection of pieces to include in the uniform wardrobe for anyone who likes to make a statement.
Match a bold shirt with your suit. Or coloured jacket with matching chinos. Imagine neutral or black chinos and a modern style vest teamed with a bold check pattern, and a bright tie for a pop of colour. Now if this isn't edgy enough for a uniform, I don't know what is!
The New Social Uniform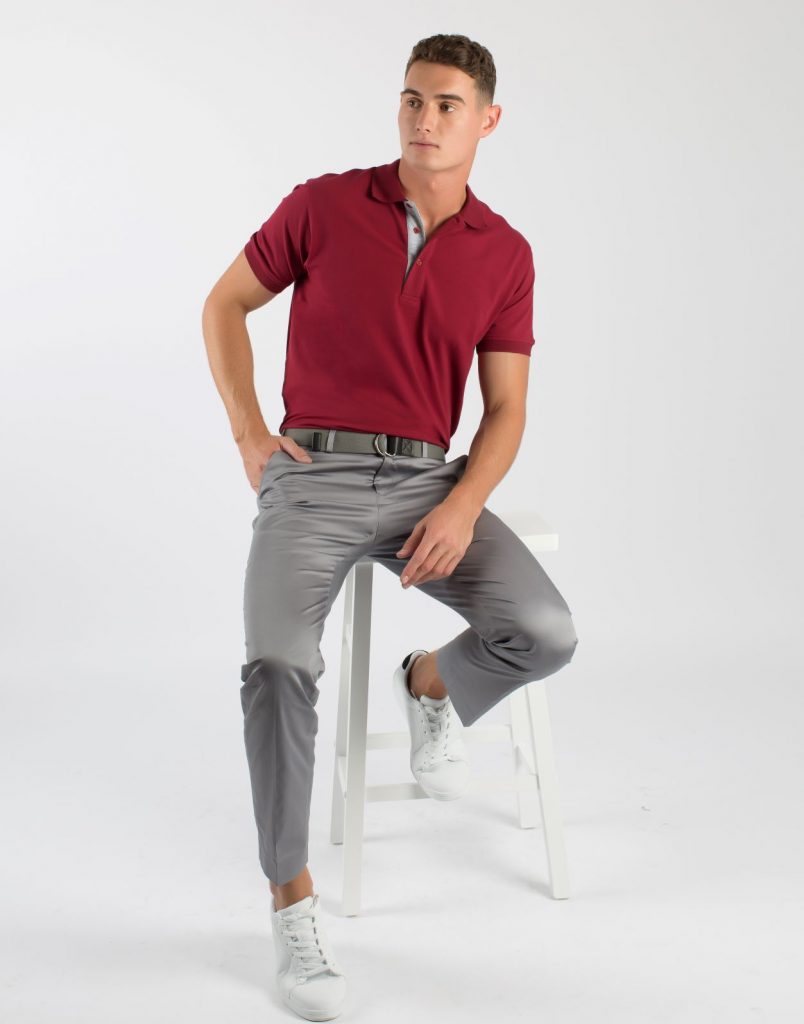 This could almost be a mix of all of the above. It can even look sartorially geeky. Others may term this the tech look. Whatever you want to call it, we've titled this the new social uniform style. The ultimate modern stylish corporate uniform kind. It's the perfect outfit for that busy day back and forth from meetings to the office. Suitable for an important client catch-up. A great example would be something in between corporate casual and an edgy style uniform, with perhaps less bold colours and more nicely matched pieces. Instead of jeans, swap for chinos or even your wool trousers but with a smart lace-up shoe rather than a formal one. Wear a more casual style collared shirt or throw a jacket over your polo shirt. Think casual chic rather than casual Friday.
All the above styles are a great guide to create a corporate wardrobe for your team that together form a cohesive look by way of colours and fabric choices.
So, which one of these stylish corporate uniforms would suit you best?
If you would like a free consultation to discuss some stylish corporate wardrobe ideas get in touch  FREE Consultation