It's true, isn't it? When you hear the word uniforms it instantly takes you back to your school days where everyone looked exactly the same, the fits were shapeless, the colours unflattering and the fabric of poor quality. And in the adult workforce, it can often still be the case. The Uniform Edit is really leading the way in this space. We are changing the face of corporate uniforms by creating looks that are design and fashion led. What a refreshing change!
Uniforms have changed so much (for the better thank goodness). Gone are the days where everyone had to dress exactly the same. Today, we approach a company uniform from a totally different angle. It's so much more about creating a branded team look, with wardrobe options – rather than a compulsory must wear uniform. Let's face it, we are not all built the same and we don't all hold the same positions and duties at work. It's clear a uniform needs to reflect the needs of many team members.
Here are our 7 tips on how to create your team's wardrobe capsule (and move away from the 'generic' uniform).

Provide More Than One Shirt Option
A custom shirt program allows you to build a range of shirts rather than one standard shirt.  Using a unique contrast inside the collar and cuff is a great way to achieve this. For example, you could opt for four colours in your shirt range – blue, white, mauve and black and add the same feature contrast fabric in every shirt – in this case, let's say a navy check. This gives your team options of colours and at the same time, the unique contrast ties the shirts together so that your team is 'unified' but not all identical. Giving sleeve options such as long, three quarter and short is also another way to give your team flexibility towards a uniform capsule wardrobe.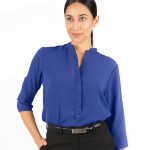 Introduce Shirt Alternatives
Not all women like to wear a collared shirt or feel comfortable in shirts. Adding an elegant blouse in a flowing chiffon fabric is a great feminine option. Work in with the colours of your chosen shirt range to find a complimenting colour to your uniform capsule wardrobe.
Introduce a Custom Polo to Your Uniform Capsule Wardrobe
Corporate dress standards are much more easy-going these days – the shirt and tie are not seen as an essential daily uniform. Whilst it still forms part of a corporate capsule wardrobe, there is definitely more room to relax the dress code. Adding a custom polo from our high-end mercerised cotton range is definitely a great 'casual' option. Tie it into your wardrobe by adding a contrast colour inside the placket to pick up on your branding colours.
Allow Pieces to be Worn on Any Day
When building a uniform capsule wardrobe for your team it's important to provide wardrobe options with flexibility on when staff can wear each piece. Just because Friday is usually 'Casual Friday' doesn't mean you have to go casual. If you have a client meeting you may need your corporate gear that day. And vice versa – if Monday you are at your desk all day, opt for a more casual option such as chinos and a polo. Flexibility is the key. Wearing clothes that suit your responsibility for that day will ensure your team fall in love with their work uniform.
Always Add a Cotton Chino
Have you ever worn a cotton stretch chino pant? If you have, you'll know it's the most comfortable thing in the world (other than pyjamas). Made in a nice quality fabric, your chinos can look very smart especially if worn back with a collar shirt or polo. It's an absolute just for any uniform wardrobe capsule.

Style Your Pieces with Contrasting Options
Like with the polos and shirts, you can add a fabric trim to almost any of our products. The benefit of this is to move away from the standard black suit or classic jacket by adding a trim.  With the many colours available add some fun to your uniform branding with a trim – either at the pocket on a jacket, back pocket on chinos and trousers or around the neckline of dresses.  The options are endless.  It's about thinking outside the box, creating something that speaks to your brand and staff and building a uniform your team are proud to wear.
Don't Compromise on Quality
When you are asking your team to be in uniform five days a week, don't skimp on quality. A good quality uniform should last 12 to 18 months, be comfortable, wash and wear well, and most of all make your team feel good. Giving your staff confidence is key and this is simply not achievable in a poor quality, ill-fitting uniform. Make this investment count. Good quality is a key essential to a uniform capsule wardrobe.