Seeing the staff decked out in full uniform at your favourite restaurant, bar or local cafe is nothing new, but have you noticed how much they've turned up the style dial on waitstaff and bar tenders? Hospitality uniforms are rather impressive! With the continuous rise in new venues opening in well established and upcoming areas, business owners need to refine every element of their service and presentation. 
Blue & Neutrals
The epitome of the modern hospitality uniform. It's fresh and friendly. Blue check is in and it lifts the mood. Teamed with a full body matching apron and chino pants that bring out the apron contrast buttons feature. 
Traditional Black and White with a Fancy Twist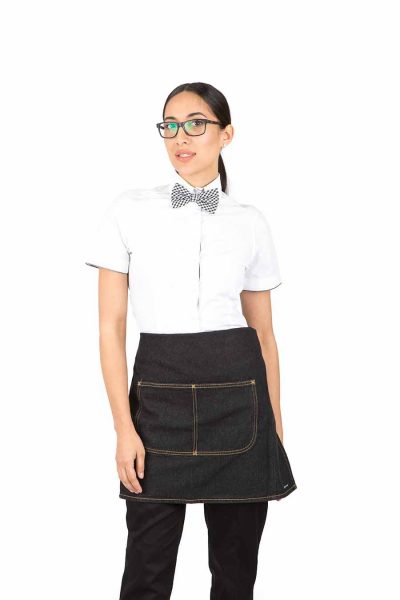 This is the James Bond of hospitality uniforms. If you see this style you know you're somewhere special. You'll find this look at a lot of fancy restaurants and hip bars. The short sleeve covered placket shirt with a statement bow tie and denim half apron with double contrast stitching. Its old worldish meets yet one of the most up to date styles in hospitality uniforms. 

Black & Tan
The black and tan colour combo is upmarket and contemporary. The black and white check shirt teamed with black tie takes it to the next level in hospitality uniforms. A look you would see at that high-end restaurant you may visit from time to time. The crossover black straps give the full bib apron a nice form-fitting look. This hospitality uniform will make you do a double-take next time the staff pass you by. 
Relaxed C3 Piece with Contrasts
The best hospitality uniforms are those that are unique to suit the business environment. While the matching pants and vest are on the formal side the modern check contrast shirt with sleeves rolled up and no tie look make this perfect for the local hotel pub. It's professional but doesn't make guests feel like it's too fancy. The perfect management uniform or lose the vest and add an apron for the bar staff. 
Mix and Match
An easy smart casual corporate look with a selection of options for staff to chose from. Hospitality uniforms can work nicely when you work the brands colour palette and provide the team of many trades with options to suit their style. Navy chino pants, cool blue modern check shirts, latte jackets for the cool seasons and a versatile blue navy full apron. This hospitality uniform range nicely dresses both management and bar and wait staff creating different looks yet still uniting them aesthetically to represent the company they love to work for. 

All Time Classic
You can never go wrong with black and white. It's the ultimate classic combination in hospitality uniforms, but will always remain a modern choice. Simplicity is key to true style. The elements of this traditional design are more noticeable in black and white. Tailored black pants with a matching waist coast, or v neck lapelled vest teamed with a white self stripe shirt. This is a timeless look that your staff and customers will appreciate. 
Browse range of uniforms designed for hospitality clients ranging from fine dining restaurants to cafes and bars Learn More