The restaurant industry is saturated more than ever before. There is an abundance of choice and high expectations from consumers. For restaurant entrepreneurs, this means more competition and having to get creative in offering something different. Besides the hard work put into the quality of food and service, one way to stand out is with a great uniform! We know too well that's always easier said than done. Behind the scenes of a restaurant it's labour intensive. Chefs under pressure in the kitchen, waiters running around, and the bar staff frantically making fancy Instagram-worthy beverages for their thirsty patrons on a Friday night.
Anyone that has ever experienced 5-star fine dining, or even a popular trendy restaurant, will notice the staff tend to be dressed immaculately. Choosing a great looking uniform is one thing. But a comfortable and durable one suitable for the job is another challenge. A great looking uniform should not get in the way of productivity or health and safety requirements. Different roles within the venue will have different needs. The key is in choosing the best uniform fabrics.
Below are the best uniform fabrics for your chefs, waiters, bar and barista staff:
Waiters and Waitresses
Although they come to serve us looking polished and pleasant, one thing we know for sure is afterwards they are running around in the kitchen, carrying heavy trays, and cleaning tables, along with other additional kitchen duties. Even with all this going on, as front of house staff they still need to look fresh. Its quite contradictory really. Natural fibres are the best uniform fabrics to address sweating. However, pure natural fibres can tend to crease easier and are not as flexible so it's important they have a stretch component. Cotton rich shirts with a blend of stretch would be most suitable to keep their shirt looking crisp.
For the bottoms, cotton stretch chino pants or skirts are perfect for wait staff. The breathable fabric is always ideal for an active job role. There's nothing worse than sweating in your pants. Cotton stretch shirt dresses are also becoming a popular option for front of house female staff. Then, to finish their look a half apron with a large front pocket is usually worn to match. Dense cottons are the best uniform fabrics for aprons.
Chefs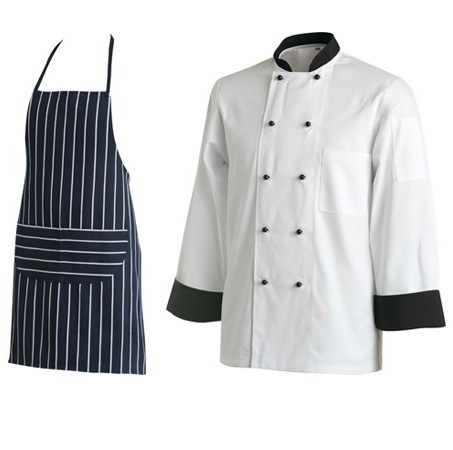 Their jobs are extraordinarily hard labour, but also the most rewarding. These days a lot of restaurants have chefs on display with transparent kitchens so chefs can be seen their toque Blanche hats. While they need to be in character, it's vital to keep them comfortable. A durable apron and natural, flexible fibres in whatever goes under that apron is essential.
Most of the time for practical purposes as well as presentation, chefs have special white double-breasted high collar jackets with special ventilation technology, having two layers of fabric protects against burns, while the concealed button placket also shields buttons from melting. With such heat it would be ludicrous to have them in anything remotely synthetic, so stick to cotton.
A traditional chef uniform has them in houndstooth weave pants, which of course you should have in the best uniform fabrics in pure breathable cotton or wool. But let's face it, no one usually sees their bottom half, so a comfy loose-fitting pair of lightweight cotton pants or cargos are most ideal.
Barista and Bar Staff
Similar to wait staff they also need to look pretty polished but their outfits are generally hidden behind a full bib apron. So, keep it in classic thick duck canvas cotton to give them that durability needed to smash out coffees and cocktails all day and night. 300gsm plus is usually best uniform fabrics for the aprons on these superstars.
We've worked with many clients in the hospitality industry to create suitably branded uniforms, from casual eateries like Brisbane's Arrivederci Pizzeria, to fine dining establishments like Urbane in Brisbane, Wichens Degustation Restaurant in the Grampians and more.  See more case studies here or view our gallery for inspiration.