Hospitality is one of the most dynamic industries of our time! It's a very broad industry, and one that keeps our economy alive. There's no denying that one luxury in life people will always want is to have is a good time! Whether you're serving food, holding events or running a theme park or hotel, these are necessary experiences that make life worthwhile and create lasting memories. The hospitality sector is the most competitive it's ever been with the demand for convenience having business owners taking up any opportunity to open a new venue in almost any nook of an area. Clever entrepreneurial minds are coming up with new concepts and cutting-edge technologies, boosting the growth of food delivery and accommodation booking apps, helping to fuel the industry even more!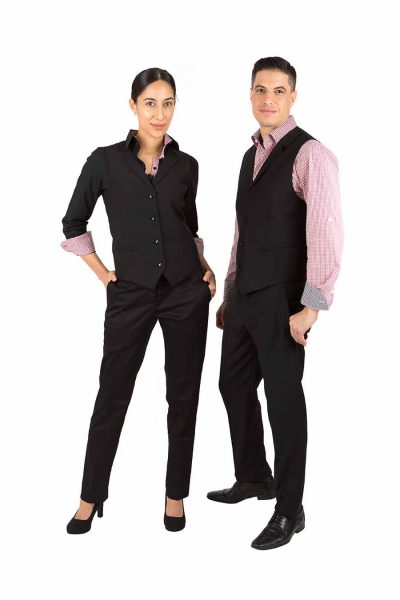 There are so many elements of a hospitality business that make it popular, with marketing and customer service being some of the most imperative. Staffs are one of the first points of contact with customers. Some of the most memorable parts of an experience in a venue is the customer service, and flawless customer service can make up for almost anything else that may be lacking in the business. So, investing in staff is always a good move! This includes continuous customer training and other development programs. When you've got the perfect team, you've got gold! So how do you infuse a great marketing strategy into this mix? With great fashion and consistent branding! Nowadays you don't see many businesses in hospitality without a uniform of some sort.
Uniforms are not like they used to be. A great restaurant now usually comes with an impressively stylish team buzzing around the place. If you're in the industry and your company are looking for a new uniform here are three big tips on how to choose the right hospitality clothing suppliers.
Choose a full-service uniform agency over a supplier.
There is a difference between simply a hospitality clothing supplier and a full-service uniform company. That difference will save you a lot of time and effort and a much more likely better end result. Basic hospitality clothing suppliers will simply have a range of catalogue products to choose from to then print a logo on. A full-service uniform company will be your designer, stylist and fitter in one, and ensure the highest quality in the final products that are suitable to be part of our brand identity. So, you can have the perfect hospitality clothing customised to communicate your brand. Essentially, they are a hospitality clothing supplier and more. There is also a better chance of creating a design that's fashionably up to date in a way that's unique to your company.
Provide a brief of sartorially what you want to achieve to your choice of hospitality clothing suppliers, ideally ones that are full-service agencies.
Get feedback from staff who will be wearing them
Once you get responses to the brief, narrow it down to your favourite two or three designs they come back with. Ensure you get a range of samples made. Try before you buy!
Fit and comfort are the number one reason why hospitality staff will want to continue to wear it, followed by style. Let everyone provide feedback on the samples they try. A poor fit and unflattering shape of the uniform pieces just won't work in the long term, no matter how good they look. It's just too uncomfortable for a team running around in a fast-paced hospitality job. Go back to step 1 until and tweak the brief until they can give you a design that looks good and feels great to wear! Fabric choice and cuts especially fit for men and women will be the most important elements. Your ideal supplier will have the breathable and durable fabrics for your uniform wardrobe.
Choose value for money over price
Quality always trumps quantity. Let you short list of suppliers know your budget so they can create a hospitality wardrobe for your team and meet the needs of the brief as close as possible. It is best to look at the quality and durability of the products and how long they last over the best initial unit price you can get. The uniform will be worn day in and out so the less the need to be replaced the better! Quality also tends to be more stylish. Quality can be seen.
The final choice of hospitality uniform suppliers will also be based on agreement of key management. But as previously mentioned the company who can help you every step of the way and better your brand with the most stylish and practical uniform will be the wisest choice. Ongoing you want them to be able to manage your busy hospitality team's work fashion needs. Showing your team how to wear the uniform collection and the right way to care for it will ultimately facilitate a successful hospitality uniform.