How did the one size fits all clothing concept go for you in the past? Was it so far off you just couldn't wear it? Or did you love the style that much, although the fit wasn't quite right you settled with it anyway? Generic products tend to have that effect on buyers. Even if it's not exactly what you're looking for you settle for it anyway because it's either cheaper or easier. But would you invest in a generic product to represent your brand?
For some brands, it could be ideal and work out just fine. Others may need that distinctive edge to match the uniqueness of their brand. Custom uniforms are paramount for your branding.
Your uniform speaks volumes about your business. It is often the first thing a potential client or customer sees. So doesn't it make sense to customise your uniform design? Long term, printing your logo on some generic uniform design isn't usually the best strategy for your brand.
Branding With Uniforms
Customising a corporate uniform means that a brand's identity and aesthetics are built into the design. The Asia Pacific Journal of Tourism found that one of the most memorable aspects of a customer's experience, is the way staff are dressed. If people are going to remember your uniform, what do you want them to remember? Your brand, of course. Custom uniforms can do this in a way that catalogue products can't.
Think about some major national brands that have uniforms. It's unlikely they use generic catalogue styles. Custom uniforms are the obvious choice to invest for a better chance of keeping your staff happy and your brand on top!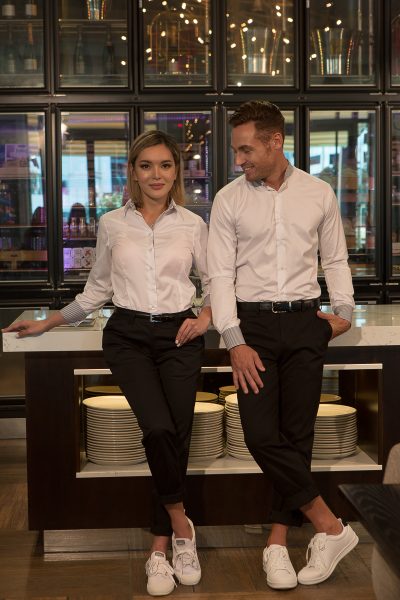 Comfort Is Key
Comfort really is key to a happier and more productive workplace environment. Custom uniforms are the best way to achieve this. Discomfort kills productivity. We all recall how uncomfortable clothing and intolerable work environments made us go home early. Its too hot, or too cold, fabrics are itchy, or the fit is too tight. If a generic design uniform doesn't suit the needs of your business or brand – don't do it! Whether your employees move around a lot, work outside, or, sit at a desk all day; custom uniforms will take all of this into account.
Be One Of A Kind
Every brand is unique, so express this by using your brand's distinctive colour palette to tie into your custom uniforms. Tailor your design to match your brand elements and business setting. Get exact colour matches, add subtle pops of colour to the trim of your suits and dresses, feature patterned custom designed fabrics to your business shirt or polo collars, or coloured buttons and contrasting buttonhole stitching. Then take it one step further with additional edgy features like epaulettes or purposeful roll-up tabs in the sleeves. Even mix the collar style up with a Korean style neck. There are so many little things you can do to give exclusive style to the way you wear your brand.
Build A Team Uniform Wardrobe
Don't waste money on an investment that ends up falling through after it's been implemented. It can be common for companies to spend a lot of time and money on a uniform project, only for staff and management to decide it's easier not to have one in the end. The purpose of a uniform is to make dressing for work uncomplicated and dress codes followed easier. Create a uniform that is innovative and up to date in style. Consider the staff's size, shape and preferences when choosing the design. When a uniform is customised, style and comfort are prioritised with a variety of options to suit individuals within the team. This can only be achieved through custom uniforms.
Let your customers remember your company by giving them a brand experience that includes being greeted by staff in a stylish uniform that communicates your brand essence. Ditch the generic style uniform and lay the foundation for a successful one. Be remarkable and wear custom uniforms to make a favourable impact on your customers and send a message to your competitors that your style is at the top of its game.