As the major fashion events all start to roll into one coming out of winter, we all get a little excited as we begin to take the layers off and reveal our true style out of a coat. We did our research on what's happening on the catwalks for the Spring/Summer season. While no uniforms were seen on the runway, we can assure you that our uniforms are still in style and we always keep up to date to try and bring fashionable items to the workplace. That's our mission in business – to make people feel like they're not even wearing a uniform.
These days uniforms are more of a collection of items to choose from. A corporate wardrobe where employees can change things up for each season is the best way to keep them from getting bored by their uniforms, and instead, get excited about the changes. So, if you haven't got a uniform wardrobe yet, you're looking to add to your existing one, or give it a refresh;  here are some stylish uniforms on trend this season.
Hot Magenta
Hot magenta in the form of suits and dresses were seen on Australian runways for many upmarket brands' collections. Hot magenta is pretty much like hot pink, so why not add it to your own uniform collection with our hot pink suiting fabrics. Get yourself a jacket, chino, or skirt. For more casual days we offer hot pink polos and even work-appropriate shorts (more on this later). If pink as a primary hue doesn't really work for your brand, consider it in a lining or as a subtle trim for that added ultra-modern chic to your uniforms. Colour blocking was also a big thing, which we can do perfectly on our polo shirts. You can have contrasting coloured sleeves, collars or plackets. Polos are a great way to achieve that colour blocking look.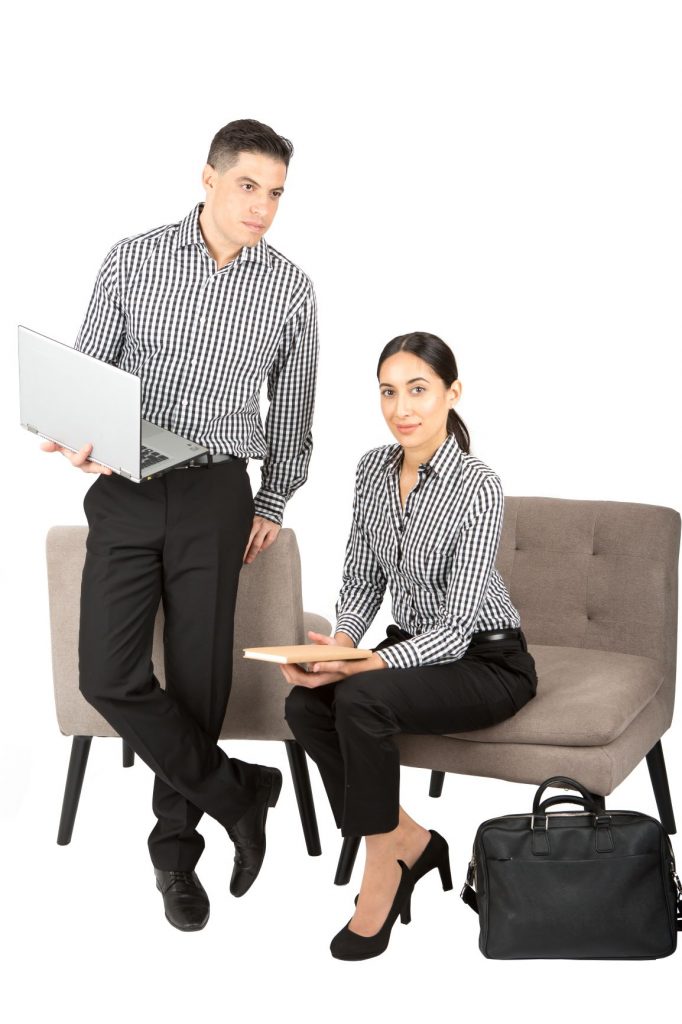 Black and White Check
They say you can never go wrong with black and white, and it's true. Black and white check shirts can be perfect for the right office or hospitality environment. We offer a few types of black and white check uniforms – from a head-turning bold check to a smaller gingham style. We also have a very fine-textured micro-check or houndstooth weave.
Polka Dots
While polka dots aren't something you see too often in uniforms, we can still create a fine polka dot uniform shirts for you. Polka dots are also nice to team with your more formal uniform pieces. We have an extensive range of polka dot patterns in our suit linings. Liven up your formal corporate jacket or vest with a luxurious silk-like fabric of polka dots in your corporate colour. We also have a collection of ties with polka dot style ties.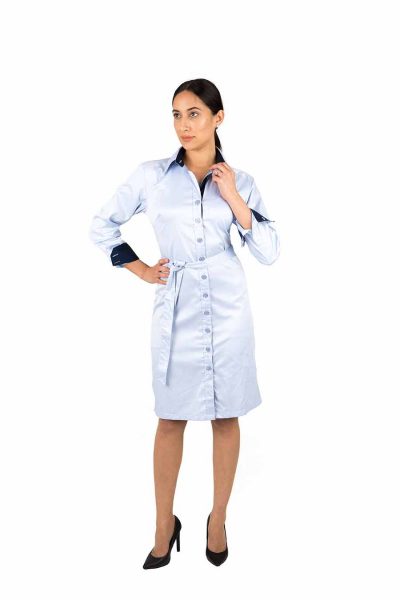 Pale Blue
If pink isn't your work culture vibe, pale blue always looks classy. Pastel suits were seen at Mercedes Benz Fashion Festival. We have many light and pale blues in business shirts or polos. We can even do one of our famous plain cotton jackets or chinos in a pale/pastel like blue. Charcoal is a staple colour which many people are taking on in their uniform for bottoms and jackets complements pale blue shirts perfectly! For women our flowy blouse range comes in a pale blue cotton or viscose which looks chic and professional with one of our charcoal or white straight skirts. Or go all over in this blue hue in a shirt dress.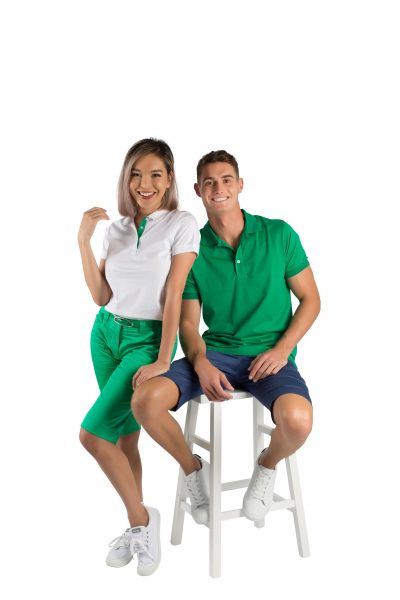 Bermuda Shorts
If you don't know what these are – they are a dress-short or a particular type of short trousers, usually approximately 1 inch above the knee. Short suits were strutting their stuff in fashion parades recently. They're quite ideal for men's uniforms, especially in the warmer season. The hem doesn't always need to be cuffed, which is why our corporate shorts are uncuffed. They're easier to care for and look great in one of our polos! They can even be worn with our business shirts if done right. Perhaps try including shorts in your uniform wardrobe.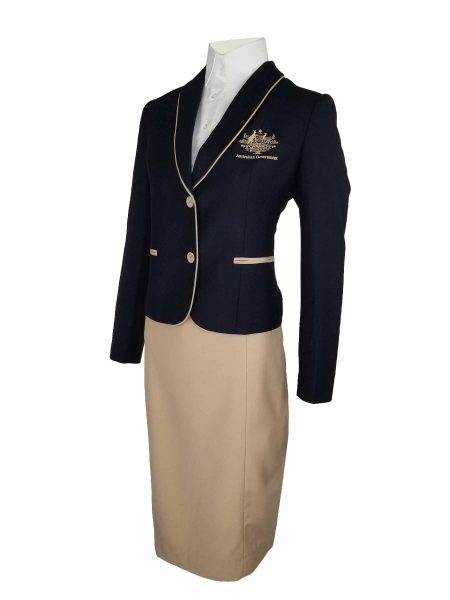 Head-Turning Neutrals
All neutral sounds like its only for the catwalk, but if done right this look can make very sophisticated uniforms! If your branding colours don't really work well as an outfit, adding your colours as a trim to neutrals is very modern and looks great a hospitality-style uniform, especially for resort-style hotels. A lot of luxury hotels in more remote places favour this look, and each establishment does it in their own unique way.