In the world of work fashion rules, it's official – comfort wins! The smart sneaker is slowly threatening all breeds of high heels. A classic example of an industry where heels were compulsory for women is aviation. Flight attendants can now fly high without the pump heels and switch up their look to a more gender-neutral uniform style. Gone are the day of all female flighties in a dress, hosiery, and heels. Many are now choosing the corporate comfort style, wearing corporate pants or chinos with fresh kicks. Virgin Atlantic is just one of many airlines that have hopped on this trend, even allowing the presence of tattoo art to be part of their individual look. Airlines around the world are setting the standard for the new "acceptable" corporate style" that allows diversity while feeling like they still belong as part of the team in uniform.
How to make it look good
As a corporate wear specialist, we don't recommend throwing your favourite sneakers on with your classic suit or dress. Corporate wear with sneakers should not be taken for granted. There's an art to making it look good, and making it look right. We're not talking about that look you have seen people do for decades when they are commuting to work on foot and throw their gym shoes on with their suit. The look needs to be balanced. It's all about matching the right outfit with the right kind of sneaker. Below are some ideal ways to incorporate kicks into your corporate style.

Suits and Sneakers
This can be done in so many ways. The general rule of thumb is to keep it consistent. Slim-fit suits require slimmer-cut sneakers. Big suits need big sneakers.
The most acceptable way to pull off this look is with a modern style suit with minimalistic sneakers. Stay away from classic styles with wide or peak lapels. And ditch the belt. If you want a shirt and tie keep it contemporary. A fun pattern suit always looks good with a neutral smart shoe. Or lose the collared shirt and add a tee with some tennis shoes. Make it real slick by going all black with black lace-ups that even have black soles. Everything will blend nicely.
If you want to pull out your fave classic full canvas suit this is where you can get away with those super comfy sports shoes. Like that pair of New Balances, you love a Sunday morning walk in. Remember, a big shoe must be balanced with big suit features like a wide leg or big shoulders. A more sartorial approach to style this look is with a pair of statement designer sneakers like Dior or Balenciaga.

Lace-up in a Skirt


Skirts and kicks are a risky trend to pull off. The shoe must fit the style. One wrong feature and the look is a complete fashion failure. If we're talking about fashion for work, forget the flare – a sneaker with a straight skirt is much more balanced. However, this must be done with a very feminine shape pair of sneakers. Slimmer through the foot and at the toe. Not chunky kicks. Skirts are feminine, so compliment them with lady-like lace-ups. A hybrid slip-on style or one with height works well with a skirt or skirt-suit look. Perhaps even wear some frill or feminine socks to help create that girly look.
Dress it down with Kicks

This look is relatively easy when it comes to casualwear. You typically see mums endorsing this look on the daily. A pretty floral strappy dress with white kicks of all kinds from K-mart to a pair of Sketchers or Vans. Or the trendsetters wearing billowy puff dresses with high tops. It's also not unusual to see the younger crowd in sequin dresses at nightclubs with kicks.
For the office, it must be done differently. We recommend wearing soft dresses. This look works well when you team a casual or flared-cut dress with a modern sneaker and throw on a structured blazer to keep it acceptably corporate. A shirt dress, wrap dress, or flared midi dress is perfect with kicks. A jumpsuit is great alternative to this look.
Using Colour to Create Style
Want an even easier formula? Use colour to make it work. Match a coloured pair of kicks with the same tone top, collared shirt or tee. Or wear a suit and match your lace-ups with your tie. As we mentioned earlier, you can also make the shoes the statement by wearing all black or all tan with a colourful pair of sneakers.
This is also a great opportunity to wear a suit in pink or grey and team it with those designer sneakers. If you're going this bold, keep the top simple. Like a basic tee or polo.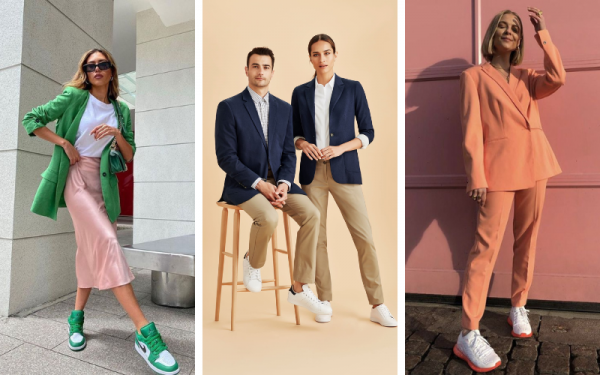 Some images are sourced from Pinterest.