Once upon a time preparing to go on screen was a big deal. It usually involved being on an elaborate professional television set. These days, almost everyone and anyone gets in front of the camera. Whether it's done professionally by a production house or a DIY job with your tripod at home, amateur videos are always taking place by vloggers, businesses, and pretty much anyone with a social media account documenting their lifestyle via face to camera filming.
When it comes to presenting for either an interview-style video, hosting, or your own face to camera moment. The purpose is usually to get a message across. The best way to keep it professional is by wearing a film-friendly outfit. Simply wearing whatever you want can completely kill the production. Below are the do's and don'ts for dressing on camera, and fashion tips on the most professional video-style for your on-screen success. Follow these wardrobe guidelines for video and you will be just fine.
DO NOT
Wear these colours
Why? While plain white is great for photographs and the crisp white shirt is the epitome of professional, white communicates harshly on camera and creates a strong glare to the viewer. If filming is done in-studio with a green screen, then green is a no go as you will end up being part of the background scene. Black might also seem ideal, but it sucks up all the lighting and may emphasise dark circles under your eyes as well as make you look shapeless. Red can also pose a technical problem and can sometimes "bleed' on camera.
Wear small patterns
Prints should generally be avoided altogether as they can be distracting to the viewer. Intricate patterns including checks, stripes, herringbone weaves and polka dots are definitely not the best clothes for video shoots. They will strobe on the screen which means you will pretty much look like you are wearing a moving shirt kind of like watching a TV that is not tuned in. This strange fuzzy visual effect is called a moire pattern.
Wear anything shiny
Shine and screen just don't work well together. Avoid wearing anything remotely shiny, heavy jewellery, glasses or shiny
makeup.  Matt is your best friend in front of the camera.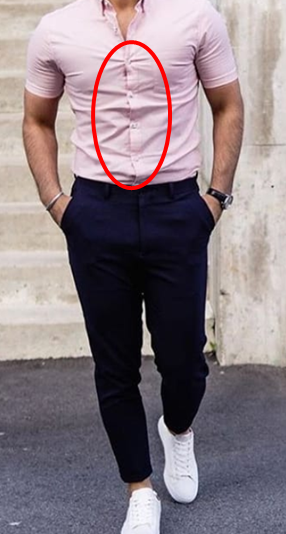 Anything too tight or short
When talking on TV you want to feel confident so you can successfully deliver whatever you need to communicate. Comfort is key. Anything too tight will not only feel uncomfortable but also look tacky on-screen. The same goes for anything too short, especially if you need to sit down on camera. One of the most useful fashion tips for men on video is to wear longer socks so you don't see bare legs as your trousers ride up when seated.
FASHION TIPS ON TV
Keep it simple
It's always best to stick to solid colours. While you may read about soft tones and pastels being safe on screen, they can wash your complexion out. Unless you have amazing olive skin or your make is done professionally to complement such hues, stick to rich colours or jewel tones. They are the best colours to wear for video interviews and tend to be universally flattering. For example – if you love blue then stick to a regular blue, royal or navy.
Dress for the weather conditions
For videos on location, there's nothing worse than sweating on-screen. Understand where you are filming and come prepared with alternatives. Bring a smart blazer if it gets too cool and an extra shirt outfit. You never know how long you will wait around before filming or what the producer's preferences are.  Also, try to wear natural fibres to avoid sweating under the sun or studio lights.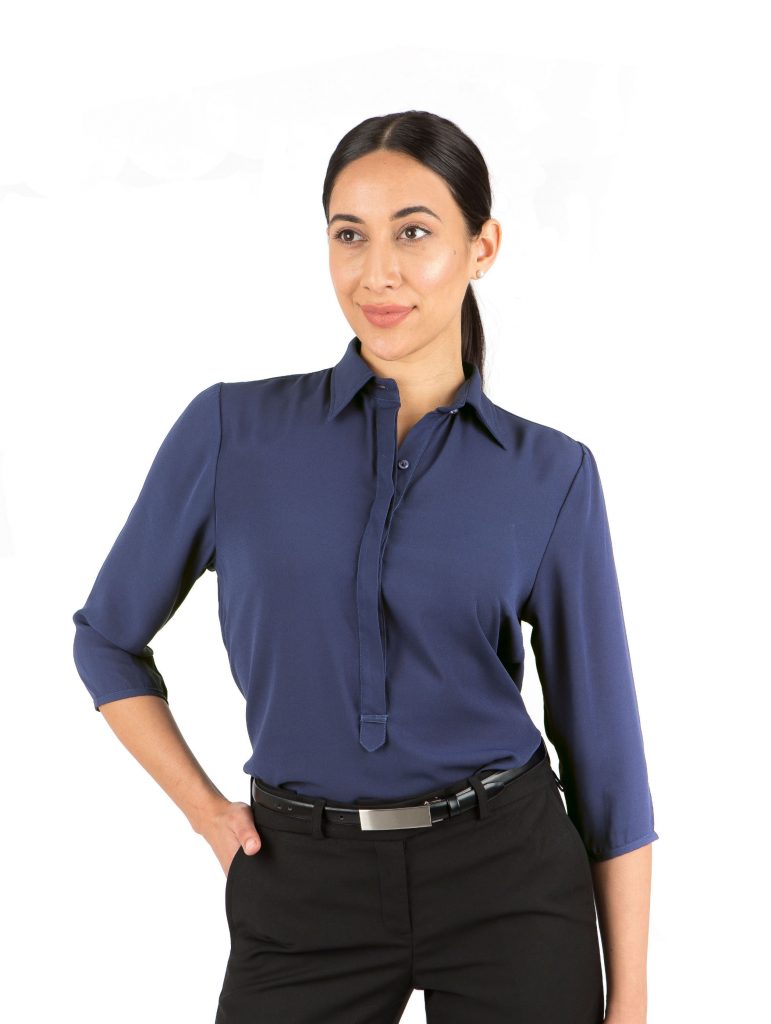 Black and white alternatives
If black is usually your vibe opt for navy instead. Or wear cream as a substitute for white. Black and white can make you either look over lit or too dark. Professional make-up to suit the lighting that best shows these colours is key. If you must wear black or white or anything too bright; do it with layering, showing only minimal amounts of these colours. Under a jacket or knit for example.

Wear your uniform
This is probably the most valuable of all fashion tips. If it's allowed – for any business-related videos that will be gaining positive exposure, wear your uniform. While the logos and detail might go against the "on-screen fashion" rules, if you can promote your brand then do it. If it's pre-planned why not get a simple uniform design made especially for the occasion.
As you can see, there is a bit of preparation involved. Be prepared with a couple of looks but keep it simple. That's the best way forward! Body language is just as important as style, so be sure you are comfortable in your choice of on-screen wardrobe.