We've been waiting for winter to be over for so long. Spring is finally here! It's not quite warm enough to pack up the winter gear, and too cool for that comfortable sleeveless dress. We need to be ready for both conditions, while also incorporating the trends! So what's trending this Spring? And how do we wear it? Here are some spring inspiration styles to start working into your work wardrobe.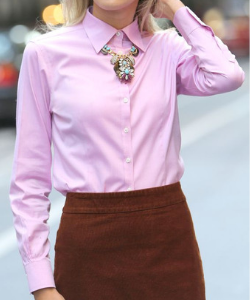 Pink and Lavendar
Springtime usually starts to bring in more feminine looks to the season. In terms of feminine hues, baby pink was popular on the Spring fashion runway.
Wear it in your favourite style dress, knits, soft feminine blouses and even suiting. Girly pink power is here for the rest of the year!
Skirt Suit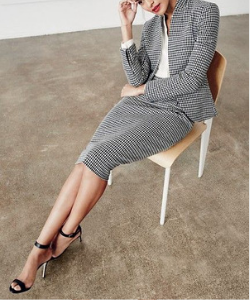 Power suits have been on the rise for the womens corporate wardobe trends for some time now. For those that prefer skirts over pants, the good news is skirt suits are trending big!
Skirts are far more comfortable as the weather warms up and much more feminine. The skirt suit isn't just limited the class just below or above knee length. Shorter skirt styles and longer midi length styles are on the shelves by some popular retailers. Unless you're petite, don't go too short. The best style to wear is the one will of course suit your body shape best. The midi or just below the knee is always a safe option for many body shapes. More modern cuts like the envelope or front spilt skirts also look smart as a suit skirt style.
Cardigans(Yay)
We all love a good cardi for work. No need to hang one over the back of your office chair only to be seen in it at your desk. Fashionable cardis you can wear in and out of the office are all the rage.
Whether you jazz a up a plain cardi or choose a more stand out style that's multi-layered and textured, bold colours, or with feature buttons and embellishments. This is the perfect fashion you can use your personality to express your style.
Checks
Check patterns in your fashion continues into this season. Get your skirt suit in a gingham check, or corporate skirt in a plaid or tartan. A pair of pants in a simple windowpane check always makes a statement. A check suit for men is always a winner! Choose your check right to suit your frame.
Large bold check pants on a fuller figure will only accentuate this more. But if you're petite this style also my not be your best choice, since it will be overpowering for your frame. Choose style and colours that compliment you.
Red Shoes
We love this trend!! Red shoes rock! There's something special about a pair of red shoes. I'm sure that's why they chose red sparkly heels for Dorothy back in the late 30's.
They are the ultimate statement to any outfit and go with just about anything. Whether its denim jeans on casual Friday, with white, navy, neutrals or can contrast nicely against many shades of blue.
Cropped Flared Pants
Remember when the flared and bootcut jeans were big, then started phasing out in the mid noughties, slowly we saw more straight leg styles, then only slim pants and skinny jean were seen everywhere. It felt as if they were out for good!
The resurgence of wider leg trousers are BACK! This applies to pants and jeans! For all those flare lovers, before you go shopping or pull out your old pair, be sure to wear them slightly cropped, since this is always a more flattering style in creating a slimmer legs below the flare. Detailed patterns are proving popular in this trending fashion.
We hope you like some of these spring trends and can enjoy to incorporate one or a few of these into your 9 to 5 style.
*Please note this is purely as fashion tips page. We do not sell these products. Some of these images are from other sources.  
View our catalogue series