What do women want? When it comes to the workplace more and more women are opting for dresses. They're comfortable and stylish, and can be accessorised easily. With our current range of corporate dresses available we are always working to improve the designs to give clients the best collection we can.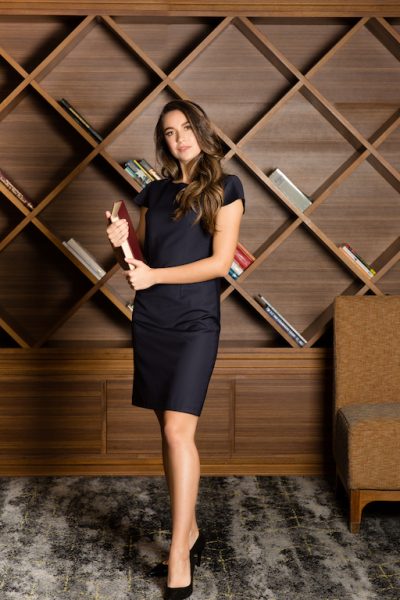 Introducing the new slimline dress. . . It's classically cut, well fitted and finished with cute cap sleeves. It's as straight forward as that! It's simple design and fit is why you'll love it. 
The simplicity of it is what makes it so stylish. Its conservative enough to wear around the office and to that next important meeting, yet cool enough to be converted to an after 5 number if you want head straight out to meet friends at knock off. It is the little black dress of corporate dresses! Available in a selection of colours either in a poly blend or wool blend. The fabric has a subtle stretch for your comfort.  
It comes in a poly blend or wool blend  in navy, charcoal, black, grey and royal blue.
Jazz it up with pumps or ankle boots or dress it down with corporate appropriate flats. Or stand out with some contrasting statement earring or necklace, or just it keep it elegant with dainty pieces. Team it with a silk scarf for ultra professionalism. Then a tailored jacket on top makes you sartorially impeccable.  
View our Women's Dresses