Today's Product of the Month is the versatile and oh-so-stylish Shirt Dress. This is a fresh product in our catalogue and one we are very excited about. Designed specifically for the corporate market, the Shirt Dress is contemporary office wear at its best.
Available In A New Quality Stretch Cotton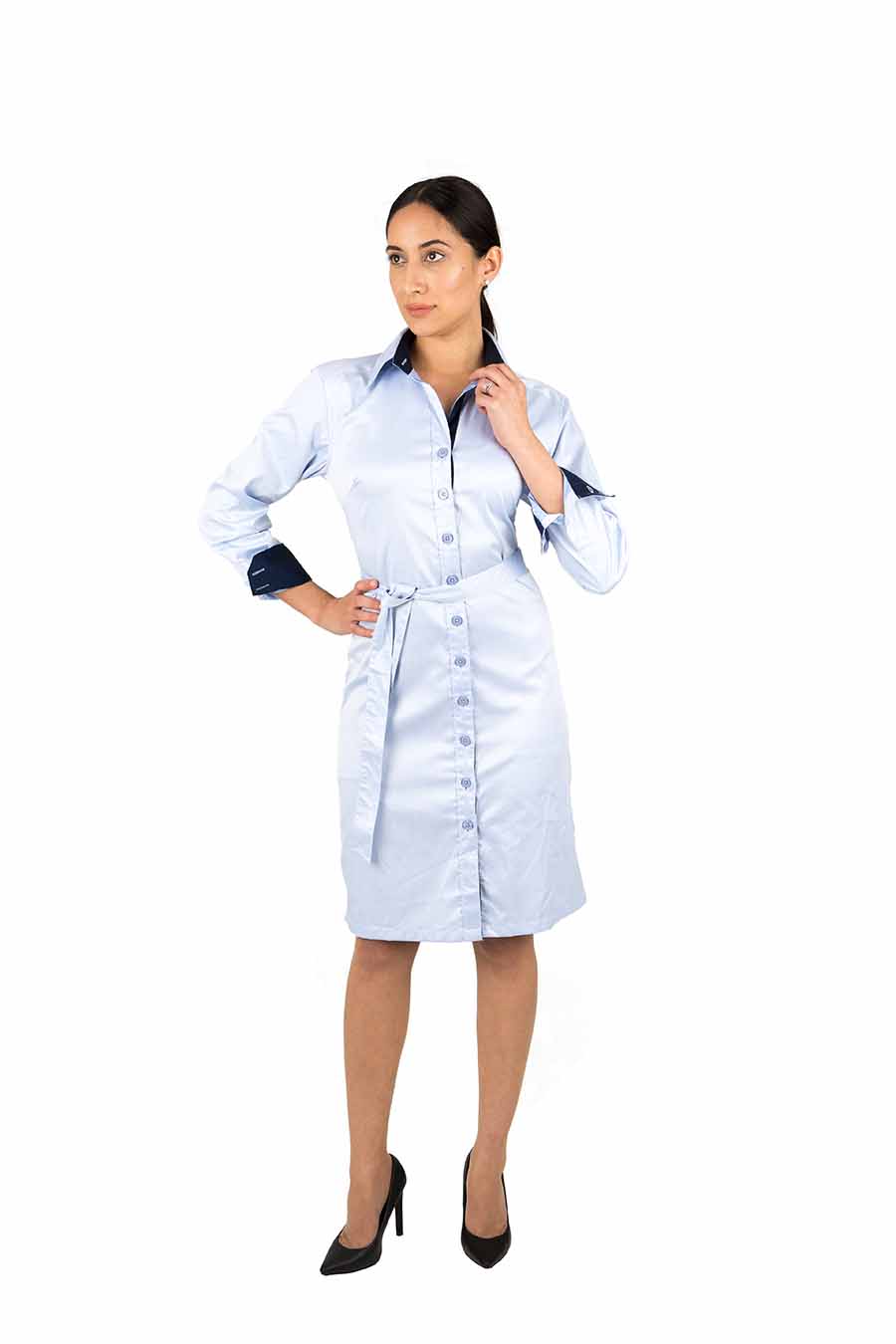 Made of cotton stretch fabric, this dress is durable and flattering. The fabric is strong – holding its shape beautifully, throughout even the busiest of work days. The Shirt Dress is closed from the waist down, without the need for buttons, meaning that it is more modest and therefore fits perfectly into any uniform policy. The Uniform Edit also offers a traditional button-down dress, for a more traditional look.
Customisable In A Range Of Features
The Shirt Dress comes in a variety of colours, with navy and black being particularly popular colours. It comes with a fabric belt, which can be custom designed (try a reversible fabric for added adaptability), but also looks great with a leather belt. As with everything we do here at The Uniform Edit, the Shirt Dress is fully customisable. Want to add a pop of colour in a cuff or colour trim? Can do! Need short, long or three-quarter length sleeves? The choice is yours! The Shirt Dress is ready to customise, fitting in perfectly with your uniform.
The Shirt Dress is a great choice for a corporate uniform. Shirt dresses have become a must-have item in many of our wardrobes over the past five years. They are fashionable and incredible comfortable. Easy to wear and easy to style – what's not to love? The thing we love most about the Shirt Dress is its versatility. It looks great with flats or heels. Add a suit jacket or a scarf for a touch of formality. Or, go casual. This dress is an unbeatable product in our range. We love it and know that you will too!
Learn More