Women's work fashion has changed over the years with there now being so many options available to women. The days of wearing a 'power suit' to the office are no longer – women's corporate fashion has evolved and whilst the 'power suit' has its place, corporate fashion now has a divine feminine flow, incorporating the structured suit with flowing blouses, patterned garments and non- traditional corporate pieces.
A uniform blouse is such a timeless piece and can be worn back with most items – whether it's a tailored pair of trousers, a classic pencil skirt or a patterned flowing skirt – the blouse or business shirt is a perfect pairing option.  Our minimalist guide will ensure you always have a blouse to wear back with any outfit.
Classic White Shirt
The white shirt has remained a corporate staple; however it is important to focus on stylish detailing to transform your look office chic. Women have the option of a classic or large flamboyant collar, a range of weaves and fabric finishes, as well as cuff alternatives to suit each day at the office. Button cuffs offer a simple yet sophisticated design, while French cuffs are the perfect partner to an elegant pair of cufflinks. Don't disregard the short sleeve option as well.  It prvoides a great summer option.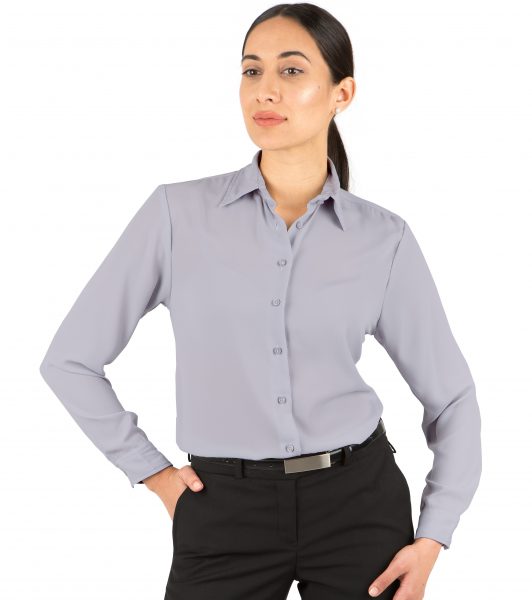 Long Sleeve Chiffon Blouse
A classic loose fitting blouse works beautifully with a suit to incorporate soft edges.  A suit usually has very sharp lines, is tailored and quite structured – the feminine uniform blouse compliments this structure creating a very flattering and feminine look.  You can either keep the blouse very simple with little detail in a plain classic colour, or find a blouse with a print of some sort, to build a more dynamic look.
Summer Blouse
You may have an office day that's a bit more relaxed, calling for an outfit that's less formal.  A flowing summer short sleeve blouse is ideal. Worn with a full skirt, classic straight skirt or even a pair of slim trousers – the summer blouse worn tucked in with a thin belt is a funky 'dress down' alternative. Opt for some bright colours to brighten up the office and your day.
Round Neck Blouse
Another option is to remove the collar altogether to create a very simple blouse that lightly caresses the body.  A round neck top like this one is extremely versatile and can be worn back with a suit for formal occasions, chino style trousers or a cotton skirt for those office casual days.  Try some bright hues and given the neckline is simple you can afford to experiment with some necklaces or large flamboyant earrings