The corporate polo has been a safe staple for many years. The polo shirt used to have a boring unimaginative fashion stigma attached to it both in and out of the uniform space. For the corporate wardrobe, other than a collared shirt or blouse it seems to be the only option for men and women looking for a 'dress down' approach on the top half.
Unfortunately, the options in the marketplace are quite limited with most companies offering the same styles. Either a plain coloured cotton polo or a range of polos with mesh panels in polyester and quick dry fabrics. To be honest, in the past most of the time we'd encourage our clients to choose a quality business shirt over the standard polos on offer. But with the rise of athleisure and blurred lines of corporate dressing rules, designers have reinvented the polo to make its way into every aspect of your wardrobe! Read on for tips on the many ways you can now style the polo shirt.
We've been working hard behind the scenes to come up with a new solution for our clients and are so excited to launch our new polo line, including the new smooth mercerised polo option. Mercerised cotton has a quality textile treatment that gives a silk-like lustre and is super lightweight and breathable perfect for the warmer months. This is the what sets us apart from other polo uniform suppliers. So, if you want your team in polos we're your premium choice for customisable polo shirts. If you prefer the traditional pique cotton style, we still offer our entire range in this option.
As with all our products, the new line is completely customisable with over 200 variations of colours and style combos to choose from.
Choose from over 28 colours

High-quality piquet cotton similar to what you'd expect from leading brands like Ralph Lauren and Hugo Boss

Two styles of fabric – an open weave piquet cotton or a smooth finish double mercerized cotton

 Long sleeve or short sleeve with quality ribbed cuffs

Pockets optional which you can also use variations of contrasts

Contrast collars, cuffs and even entire sleeves

Choose your own button colour and stitching

We can screen print on the front and back

 High-quality logo embroidery

Button-down collar option available

How does the Polo shirt program work?
Much like our corporate shirt program, arrange a time to see one of our consultants and view the range of fabrics and colours.
Choose how you'd like to have the polos made up – long sleeve, short sleeve, and pocket options.

Decide whether you'd like a contrasting fabric for the collar, placket and/or sleeve or cuff, and let us work on some designs for you

Choose your button colour and button stitching

Decide on sizes and final quantities
Please note, as this is a fully customisable program, including custom made fabric, the minimum order requirement for orders is 50 units across any size and across both genders. You can also opt for a unisex fit to provide the polos suitable for men and women. View our Polo catalogue
Styling Tips On Wearing The Modern Polo Shirt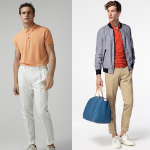 The New Classic Corporate
Bring back the classic tucked in polo and pleated trouser look without looking like grandpa. Go for a slimmer fit pleated trouser teamed with a high-quality fabric polo that has some kind of detail either with a placket and cuff contrast or contrasting buttons and stitching, then finish with leather trainers instead of a formal smart shoe. 
Working Holiday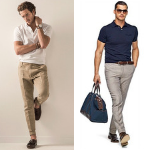 Travelling for business or on the road for a day of casual meetings. The polo is perfect for those times you want to look professional without overdressing. It's also much more ideal for warmer seasons. You can still be appropriately dapper without a suit if you do this look right. Go for classic colours, for example, a grey sports jacket with chinos or denim jeans and match with a more classic shoe to keep it smart. Team with your briefcase and you're ready to roll!
Formal Polo Style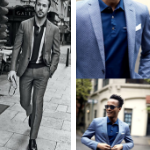 Suiting style has advanced in recent times with an almost new formal wear genre. If you really want to vamp up your formal polo presence, why not team it with a suit! Of course this needs a very high-quality polo to wear with your suit of choice. Then a smart lace-up shoe in a semi brogue or whole-cut leather will look slick. Some of you may be able to pull this off with loafers.
Casual Friday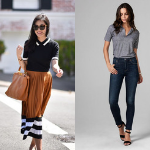 Similar to your working holiday, you can make this even more casual and lose the jacket and wear suitable length shorts or chino pants. Where
whatever shoe feels most comfortable – loafers if you must. Of course, your casual Friday polo look must still be in line with your company culture. This is a great look for women, especially with a skirt or a pair of work appropriate jeans.
Anything Goes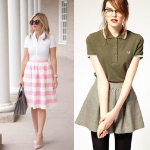 Women will get away with this more. By anything goes we mean all elements of the outfit need to bring something to the table, so get appropriately creative. Whether it's a plain bold colour or white with a full sleeve contrast, try teaming it with suit pants or even white jeans or a midi denim skirt for the ladies. Or wear all light hues in tones of cream, white or grey styled with statement shoes. The polo has always been a staple and it's now a very fashionable one that's here to stay!
Note: Style tip images above are not for sale. They are simply style ideas.