Who remembers the craze around the Shirt Dress in corporate fashion?  From 2007 until about 2012 women couldn't get enough!  Well known Australian brands specialising in shirting were selling out of the traditional corporate shirt, modified into a dress.  They were popular in stripes or solid colours such as navy and black.  Then as corporate fashion changed we saw more women opt for a more structured work dress such as a Pina form, classic shift dress or fitted dresses with a full skirt.  And this fashion is still current.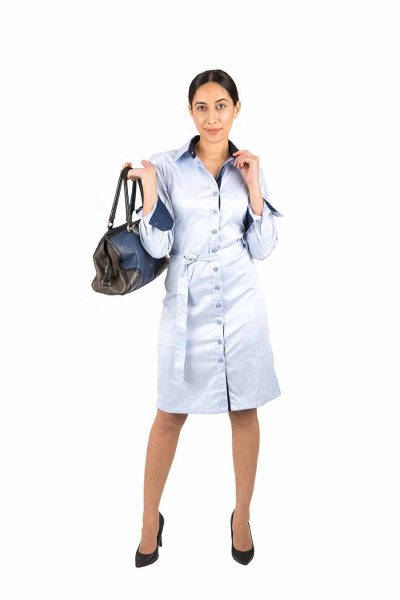 More recently we've seen the relaxed shirt dress come into fashion – a more casual shirt dress in denim, white or tan – ideal for weekend wear.
Well watch this space!  The shirt dress is making a come back  for corporate – with some slight modifications.
  Here's the new look:
Tailored through the body with the option of a regular shirt collar or a round neck flat collar
Full button up or a half button up style
Finished just above the knee
Made in stretch cotton fabrics (as opposed to traditional shirt fabrics which are not as forgiving)
Belted waist
Dark solid colours such as black, navy, tan, cobalt blue
Shirt fabric trims used inside the collar and cuffs to add a pop of colour and detail
We are currently sampling our new range.  To go on the wait list and be the first to view this new product phone us on 1300 035 919.