Are you tired of the same old boring uniforms that make you feel like you're stuck in a time warp?
Well, it's time to break free from the monotony and embrace modern uniforms that not only reflect your style but also elevate your professional image. Today, we're here to guide you through the top 10 must-have modern uniforms in Australia. Get ready to stay ahead of the style game and make a statement in the workplace!
Let's face it, traditional uniforms can be suffocating. They restrict our individuality and leave us feeling like cogs in the corporate machine. But modern uniforms are game-changing ensembles designed to celebrate your unique style, empowering you to express yourself while maintaining a professional edge.
No more sacrificing fashion for functionality or conforming to outdated norms. It's time to rewrite the rules and create a wardrobe that showcases your individuality and sets you apart from the crowd.
Let's talk about the little details that make all the difference. It's all about collar shapes that enhance your femininity and fabrics that flatter your body. We're talking about fashion-forward blouses that demand attention, tailored pants that are as stylish as they are comfortable, and trendy skirts that add a touch of femininity to your professional attire. And don't forget about the jackets that effortlessly elevate any outfit, the stylish accessories that add that final touch of pizzazz, and the comfortable yet fashionable footwear that keeps you striding with confidence.
The time for change is now, so let's revolutionize the way we dress for success!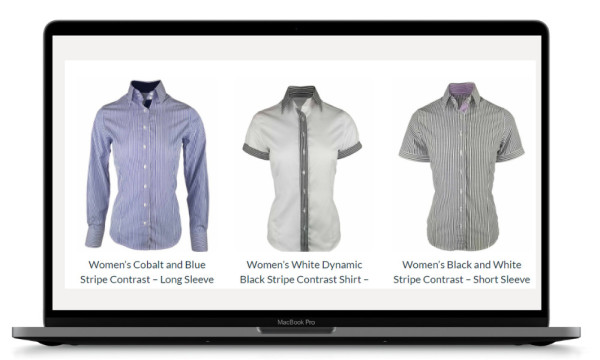 1.Embrace the Customized Shirts:
Ready to elevate your uniform game? Let's talk about the ultimate modern uniform essential; the shirt. This wardrobe gem combines comfort and style in the most effortless way. Whether you opt for a long, short, or 3/4 sleeve, this versatile piece allows you to express your individuality while maintaining a professional edge. Pair it with tailored pants or a skirt, and you've got a look that effortlessly balances sophistication and fashion-forward flair.
2. The Stylish Tunic
Who says uniforms have to be boring? Embrace the stylish tunic as a modern alternative. With its relaxed yet polished vibe, the tunic offers comfort without sacrificing style. Pair it with tailored pants or leggings for a chic and modern ensemble that boosts confidence.
3.The Power Jackets
Gone are the days when suits were limited to men. Ladies, it's time to rock your jackets and show the world who's boss! Opt for tailored blazers and pants in bold colors like navy or black. The modern suit allows you to express your individuality while commanding attention and respect in the boardroom.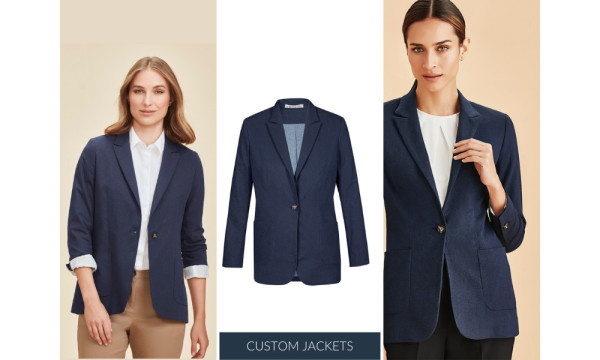 4.The Statement Dress
Make a statement with a modern dress that combines elegance and personality. Picture yourself in a chic custom shirt dress that flatters your body shape and showcases your unique style. Choose from a range of sleeve lengths and fabrics to find the perfect fit. Whether it's a petrol blue sateen weave stretch cotton dress with contrasting details, or a classic shift dress in a luxurious fabric, these shirt dresses will make a statement.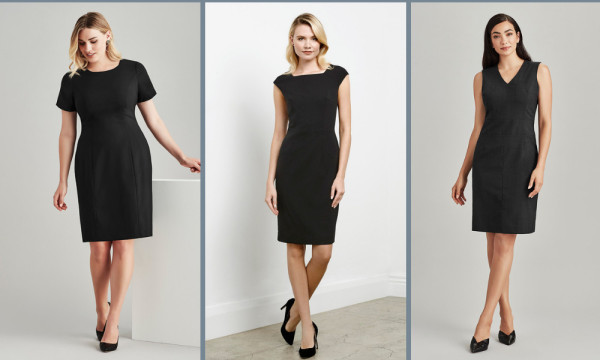 5.The Tailored Pants
Step up your fashion game with tailored pants. Add a touch of sophistication to your modern workwear with comfortable and stylish chino pants. The soft peached hand feel of these pants ensures comfort throughout the day. Made from a blend of cotton and elastane, they offer a flattering fit and can be easily maintained. You can choose wide-leg pants these are a modern twist on traditional trousers, offering both comfort and style. Pair them with a tucked-in blouse or a fitted blazer for a sophisticated yet fashion-forward look.
6.Modern Knitwear
Stay cozy and professional with modern knitwear that combines style and functionality. Crafted from a blend of pre-shrunk wool and acrylic, these knitwear options offer easy maintenance with machine washability. The sleek V-neck shape adds a sophisticated touch to your outfit, making it perfect for any season.
7.The Fashion-Forward Blouse
Upgrade your work wardrobe with fashion-forward blouses that are anything but basic. Look for unique details like ruffled sleeves, statement collars, or bold prints. These modern blouses effortlessly transition from office to after-work drinks, allowing you to showcase your impeccable sense of style.
8. The Trendy Skirt
Don't underestimate the power of a modern skirt in elevating your uniform game. Opt for skirts with asymmetrical cuts, wrap details, or A-lined patterns. Whether it's a pencil skirt or a flowing midi, the trendy skirt adds a touch of femininity and flair to your professional attire.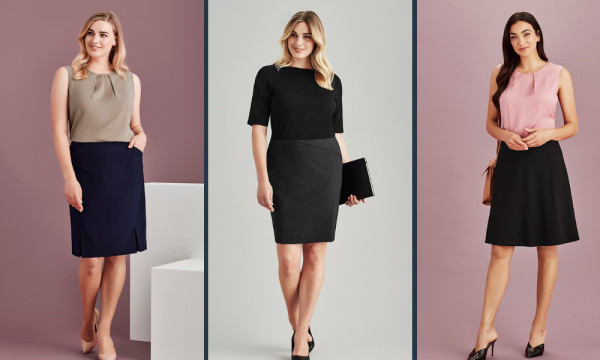 9. The Stylish Accessories
Accessories play an important role in completing a modern uniform. Opt for statement jewelry, chic scarves, belts, or trendy handbags to add a touch of personality and flair. These stylish accessories are the finishing touches that tie your entire look together and make you stand out from the crowd.
10.Comfortable Footwear
Last but certainly not least, modern uniforms prioritize comfort without compromising style. Choose footwear that combines both elements, such as stylish flats, block heels, or trendy sneakers. Comfortable yet fashionable shoes allow you to conquer the day with confidence and ease.
With these 10 must-have modern uniforms, you can stay ahead of the style game and make a lasting impression in the workplace. Remember, modern uniforms are all about expressing your individuality, embracing current trends, and elevating your professional image.
At The Uniform Edit, we understand the importance of modern uniforms that reflect your unique style and cater to your industry. Explore our collection to discover stylish corporate uniforms and modern workwear that will keep you looking fabulous and confident every day.
Stay stylish, stay ahead, and make your mark in the world of modern uniforms!