What you wear matters. Fashion is ingrained into our psychology and it is particularly important in the business world. What employees wear can spell either success or disaster to competitors and clients alike. Make sure your uniform counts – follow our suggestions for winning corporate looks.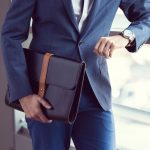 ONE:  Classic Suit and Tie
When you think of professionalism and class, what do you think? The signature business look: a suit and tie. This look will never go out of style, its elegance lasts the ages. If in doubt, a tailored shirt, paired with a suit and tie is a great corporate outfit.
TWO:  Modern and chic
A brand that is up-to-date and modern needs a uniform to match. For a corporate look that says, 'Our business is an industry leader', a contemporary look is needed. Think slim ties, asymmetrical lines and geometric prints.

THREE:  Smart polo shirt
The polo shirt is the perfect mix of smart and casual. It is tailored enough for many professional environments yet casual enough to express a friendly and approachable demeanour. Polo shirts look great on men and women.
FOUR:  Business dress
When you think of feminine yet powerful business women throughout modern history, an image comes to mind. This image is the classic business dress. Slim-cut and tailored, a business dress is flattering and chic. No matter the brand's colour scheme, a business dress is a great option.

FIVE:  Rolled up sleeves
Surveys suggest that people with rolled up sleeves appear to be more friendly and hard-working. Who doesn't want this impression to be made upon customers? Simply rolling the sleeves on business shirts can portray a more casual look while communicating a willingness to work to clients. This is a look truly spells success.
SIX:  Pin stripes
The elegant pin-striped suit jacket, skirt or shirt are not relics of times gone by. Stripes elongate the body and make for a subtle yet powerful look. Channel the energy of great business people before you when you flaunt a pinstriped outfit.

SEVEN:  Red says power
Social science research tells us that the colour red communicates dominance and power. Adding pops of vibrant red to a uniform can help induce this feeling for employees and clients alike. A red tie, red detailing or red socks can be a recipe for success.
EIGHT:  A graphic tee
Have you ever been into an Apple store? What makes their uniform work so well? The changeable, bold graphic tee-shirts, of course. They are casual and fun yet unified. If you want an understated symbol of contemporary business success, investing in simple tee-shirts can be a smart choice.

NINE:  The best of two worlds 
When your brand is neither formal nor casual, you need a uniform that mixes these two looks. For a dynamic and powerful corporate look, a smart casual uniform can be the key to success. We've recently designed a range of custom uniforms for various businesses around Australia that fit this bill. For example, mixing a classic tailored shirt with casual chinos is one way to achieve the desired effect.

TEN:  The classic Englishman
You want a uniform that speaks elegance and sophistication. You want customers to feel at ease in the presence of your charming employees. Your uniform needs to match. For the 'classic Englishman' look, try a knitted vest over a button-down shirt, paired with tailored pants and oxford loafers.
There are many ways to spell success. Your uniform is one of them, so make it count. From the colours, you choose to the style you create – what you wear matters. View our catalogue series