The summer sun is fading. The last days on the beach have been had and the BBQ has been packed away. Winter is coming! That means that our cupboards need reviving. As we say goodbye to sandals, tee-shirts and sundresses, we need to work out what the trends are for these cooler months. We bring you the latest trends which will transition you out of summer, into autumn and right through winter. From the best looks for men to the new colour palettes for women – today, we give you a masterclass in what's trending.
Men's Fashion
The trending styles for winter men's clothing are diverse and interesting this year. Warm and practical with a touch of fun, we're hoping that these mainstream styles will make their way into the corporate world too. We can't wait to see how you rock these looks around the office!
Padded Jackets
The rise of the padded jacket has been a long time coming. A cross between retro-style 1980's bomber and a heavy outdoor jacket, this item is a must-have for any man's winter wardrobe. This year, padded jackets are popular in a variety of colours, from a classic black to a fun red. In an increasingly casual world, a nice padded jacket can replace the more traditional coat in many outfit combinations.
Red
Just because the weather outside is grey, doesn't mean you have to match! Combat those winter blues by adding in a pop of red to your outfits. The colour red is very much trending for men this season. From suit jackets to ties, socks, tracksuits and more – red is the colour of choice. Choose either a deep, dark red or a fire engine tone to be on trend.
Feature Socks
Socks are no longer just a necessary undergarment but a statement piece. This winter, add some colour and pattern to your wardrobe through your socks! With shorter trouser lengths also in fashion, this is the perfect opportunity to showcase your socks. We wonder if you can add some fun socks into your work uniform … we'd love to see it!
Women's Fashion
Winter is one of our favourite seasons for women's fashion – beautiful knitwear, delicate layers and a chance to rug up! Make your winter wardrobe ultra-elegant and right on point with these trend tips. From vibrant colours to practical accessories and fun patterns, this winter is sure to be a winner.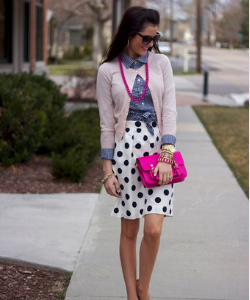 Vibrant Colours
A few years ago, darker colours were very much the go-to for the darker seasons. Greys, earth tones, blacks and jewel colours were a must. But, things have moved on and now winter seems to be the perfect chance to play with bright and bold colours in your wardrobe. London and New York Fashion Weeks showcased vibrant colour schemes for the winter wear styles for 17'/18'. Try indigo, baby pink, electric blue, bright yellow and sunrise orange to bring a touch of spring into your winter. Personally, we love mixing classic coloured staples with brightly coloured accessories.
Beanies
Beanies are always trendy in winter, after all, they are extremely practical on those cold mornings! But, now they are a fashion item too. Last winter saw the introduction of beanies with oversized fur puffs or pom poms on top of them, a trend which is set to continue. If that is a bit dramatic for you then perhaps the popular skater-boy or fishermen styles are a better choice. Either way, beanies are a sensible addition to your everyday wear. From greys to bold orange – there are options for everyone.
Plaid
Plaid is classic, elegant and screams winter! Originating in the chilly Scottish Highlands, it seems appropriate that this pattern is one of our winter trends. The material is a great choice for trousers, skirts and even pinafores or dresses. But, it is now also a popular choice for more casual jackets and even accessories … plaid stilettos anyone? Whether you choose vintage punk-rock style plaid or a chic and feminine look – plaid is here to stay. It also makes a lovely choice for the office, being both formal and interesting.
Winter is on its way!
Whether we like it or not, winter is on its way. That means we need to be prepared! Stoke up that fire, put some hot chocolate on the stove and get your wardrobe ready for the new season. With trends ranging from padded jackets and fun socks to vibrantly coloured beanies, we think this will be a winter to remember. Follow these trends to look like you've walked straight off the cat-walk and into the workplace.
View our products