SalesFix is a Gold Consulting Partner with Salesforce – the number one cloud-based CRM (customer relationship management) company in the world. CRM systems are important in helping businesses learn more about their target audience by collecting data from all their different communication platforms so they can best cater to their needs. So, if you're in Australia SaleFix is the place to get the best CRM system implemented into your business effectively. See how this tech company took their branding the next level with a new casual office uniform.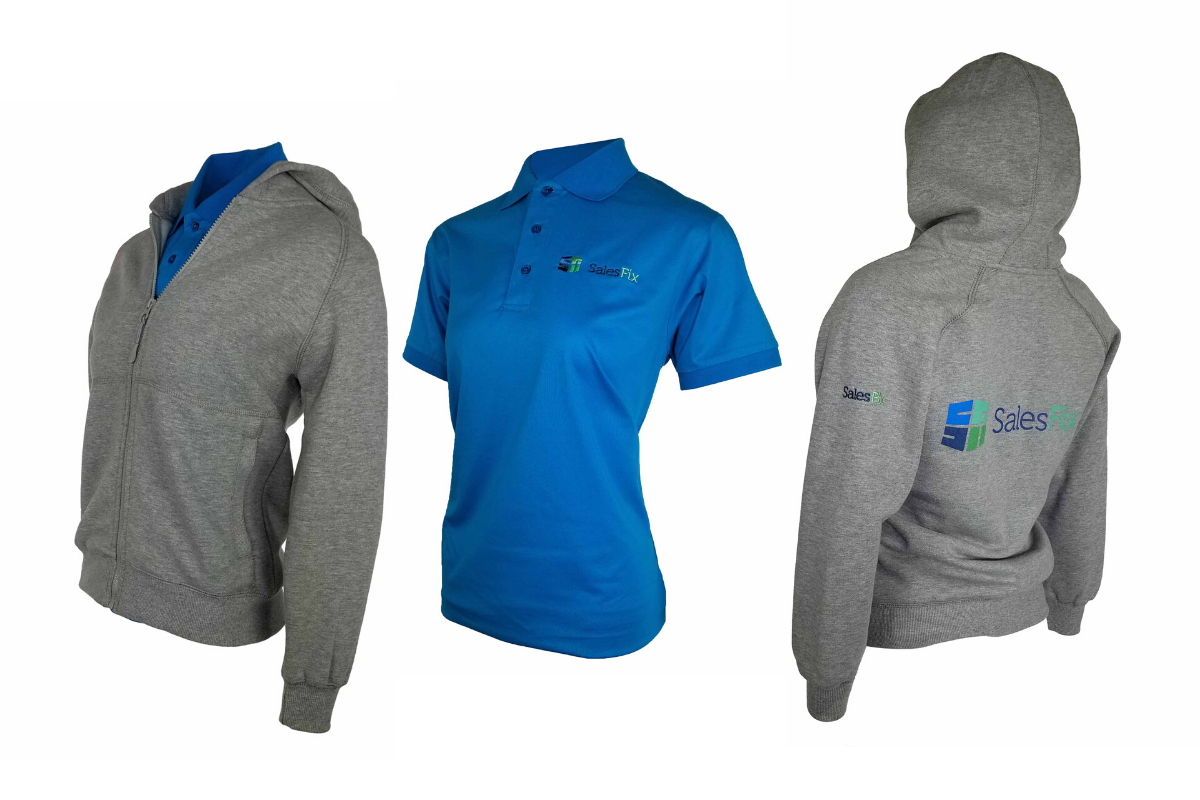 The Brief
Since SalesFix are aligned with one of the biggest tech companies in the world they indeed have a classic IT workplace culture. The IT industry has its own corporate dressing traditions, and that is normally quite relaxed and casual. But every business needs that edge to make them stand out to seem ore professional. They came to The Uniform Edit to help them create a professional tech uniform look for their team both in the office and for any work-related events.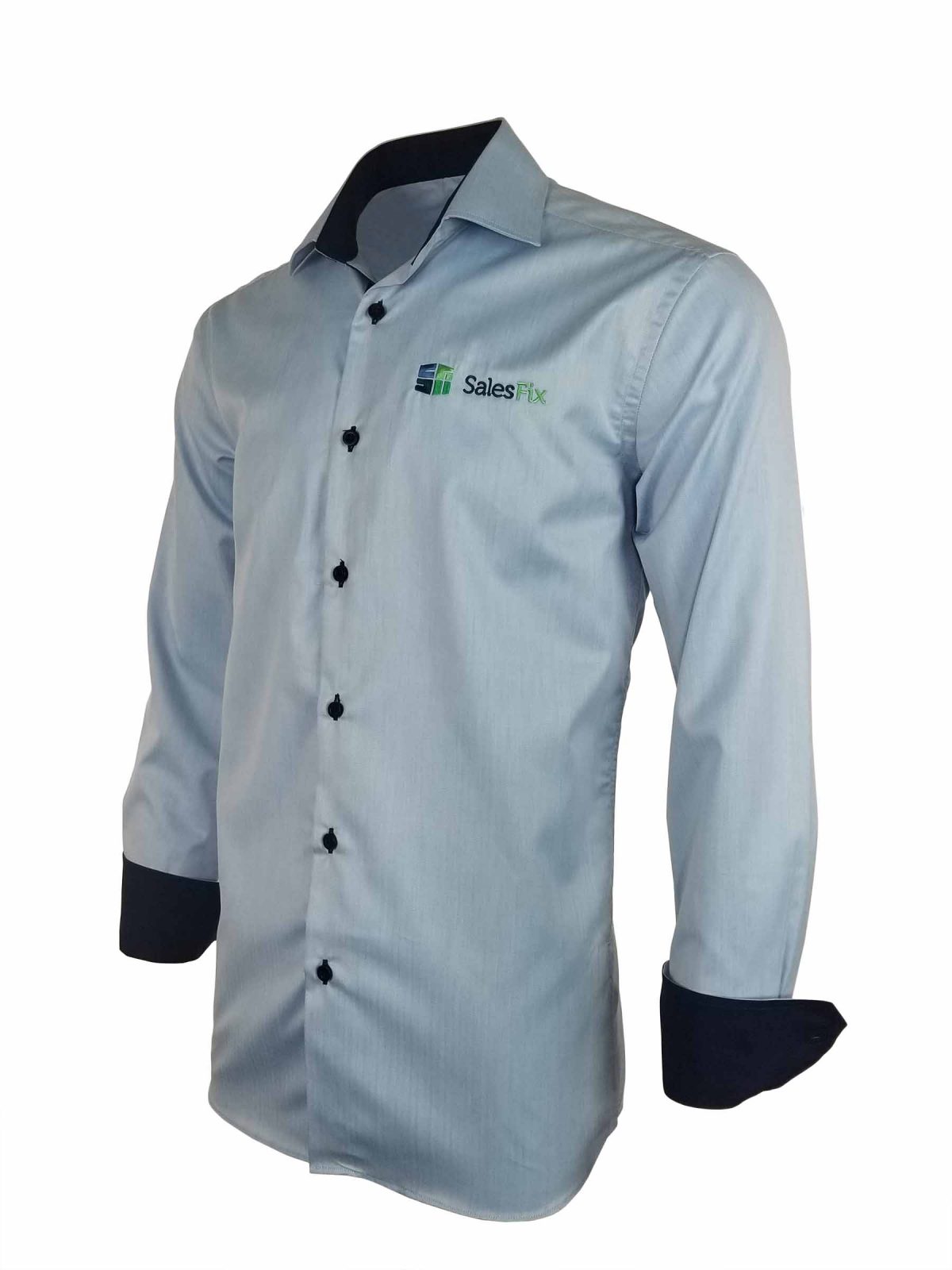 The Design
Part of any typical IT office culture is jeans. We all love corporate jeans. So, the SalesFix staff don't have to let go of this norm, they opted for a selection of uniform pieces for the top half. That's not to say they will always wear jeans, but they have kept the bottom half of their dress code flexible. Their business uniform selection is quite ideal, keeping that classic IT company uniform look going while also adding an edgy-look business shirt to it to keep it "safe" for their range of client interactions.
The Shirt
Their branding is blue and green. They went with a high-quality fine herringbone weave in blue. This weave gives a beautiful luxurious finish to the fabric. To give it that tech edge they added navy contrast to the inside collar, cuff and placket and with stand-out navy buttons and button stitching. Their logo sits nicely on the left-hand breast making the green pop on the soft blue shirt. The classic business uniform shirt is needed in any business selling a high-end product.
The Polo
The company uniform polo shirt would be a favourite in the office and is also great for busy active days at expo events where they have a stand. Our modern mercerised cotton polo shirts are the comfiest and most professional looking uniform piece you could own. They chose a stand-out cyan shade to match their branding, so the blue on their logo blended with the shirt while the green popped. Giving them that modern tech uniform vibe.
The Hoodie
Outerwear is probably the better workwear term for this. Keeping with the culture of comfort, they also added a practical hoodie fleece jumper to their casual office uniform wardrobe. When it's cold, they're better off covering up in branded winter-wear. No one could ever turn down a warm hoodie when it gets cold. This is the kind of smart tech uniform piece you know will always be worn when it's needed. Also, a great one for expo events. The best part about this professional jumper is the large statement logo on the back.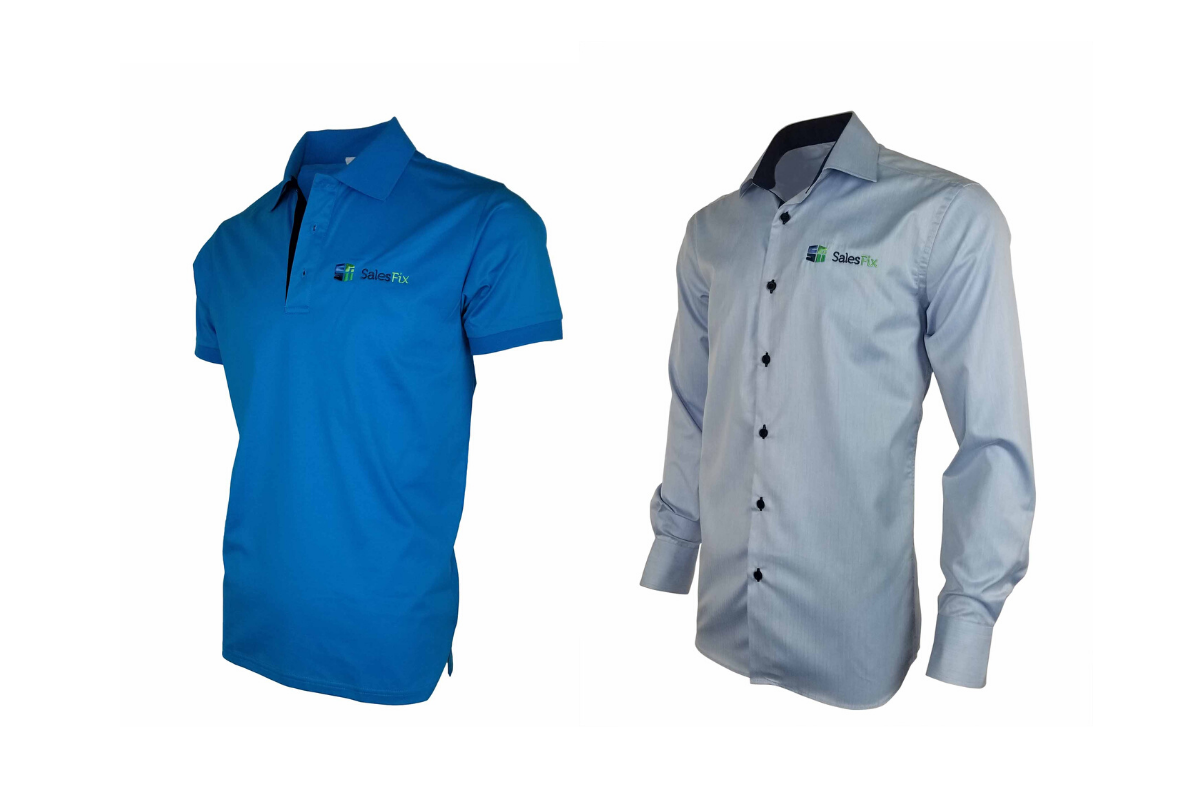 Final Outcome
For a company that prides themselves in helping take other businesses to a whole new level, they made the right choice in getting a business uniform to take their brand to the next level. To keep the tech crew happy, they created something similar to what the team would already wear. The consistent colours and design now have them presented cohesively as part of the SalesFix brand.