Leongatha is small town of Victoria in the South Gippsland Shire, well known for its Gippsland dairy country surrounded by rolling grasslands.
Leongatha Secondary College sits on a pleasant 22 hectare site within the Leongatha Education Precinct. They share this land with Leongatha primary and a couple of other specialist and training facilities.  At Leongatha Secondary College, their motto is Excellence in Education. The staff work collaboratively with colleagues, students and parents, to meet this shared educational purpose.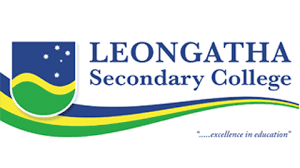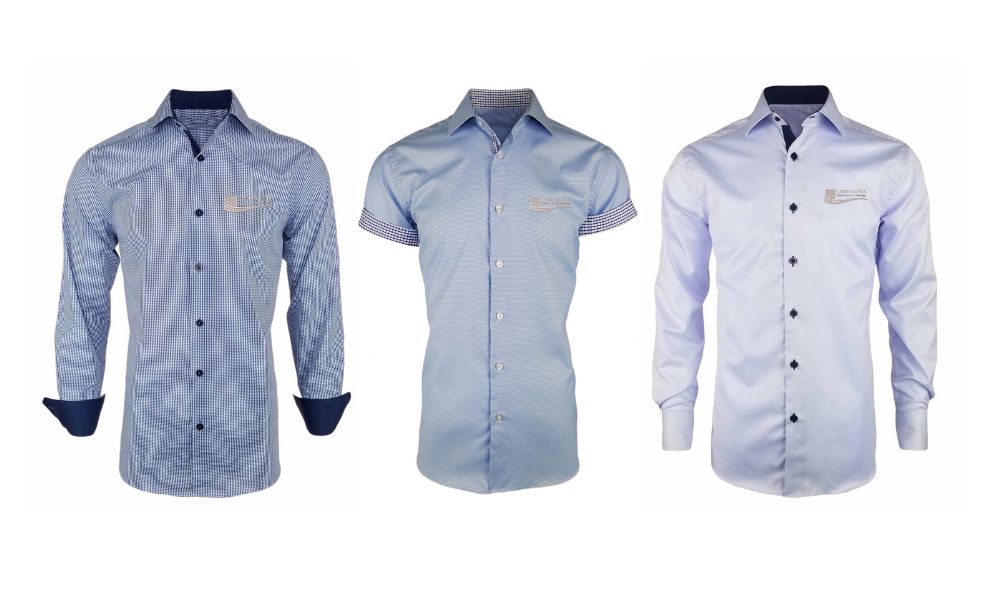 The Brief
The staff and especially teachers, are the most important asset to the business. While uniforms have always been part of every school, not all schools have a staff uniform. But when you think about it, it makes a lot of sense to provide one for employees, especially since the students have to wear one. For both branding purposes and to facilitate keeping the dress code among teachers who are the ultimate role models in the college.
Leongatha asked us to create an entire uniform wardrobe for their teaching and administration staff. A full staff uniform wardrobe that is sophisticated with a mixture of corporate and casual wear
.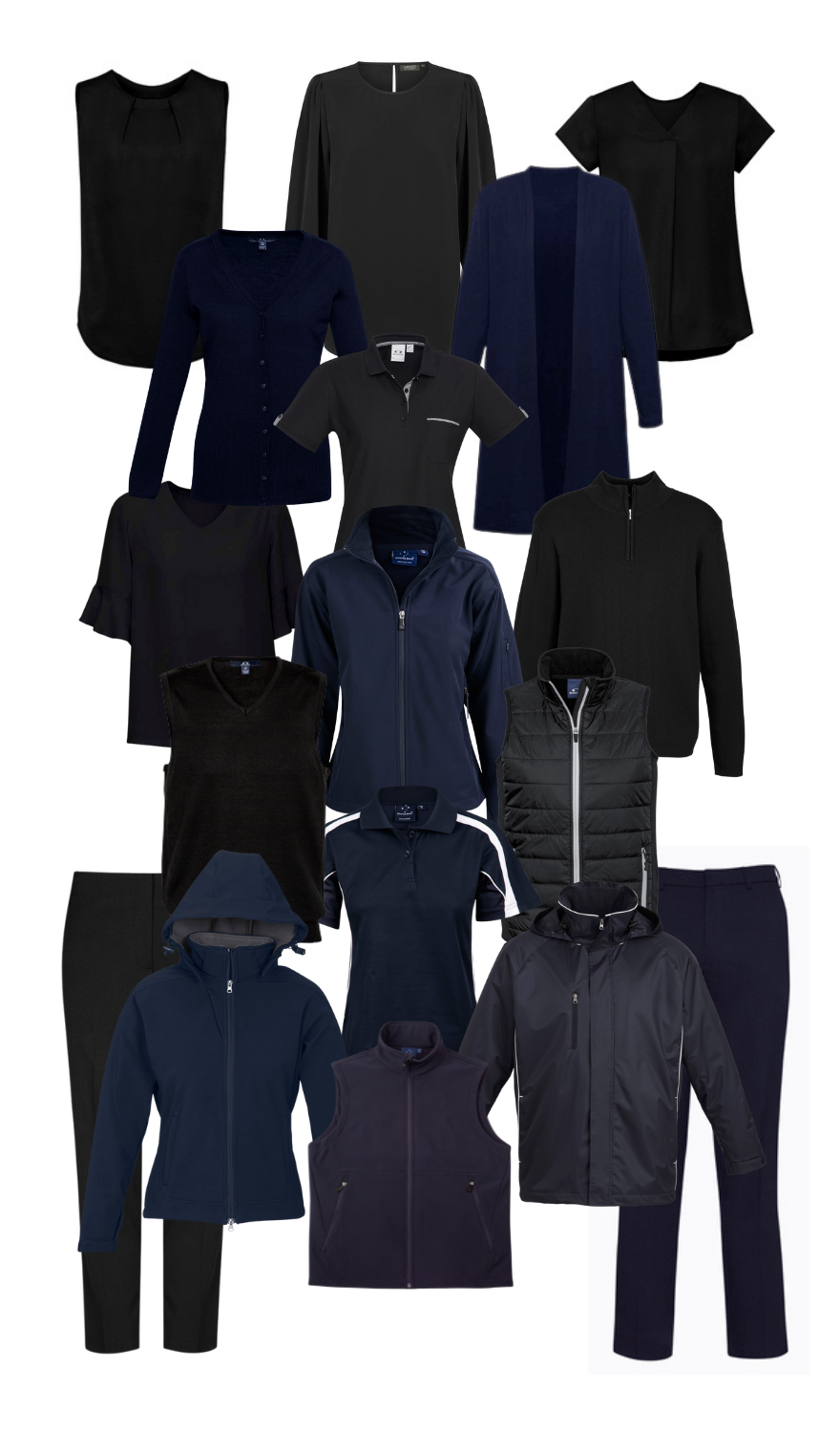 Although Leongatha has blue, green, yellow and white in their branding, they did a tone on tone logo for each item, which means they change the logo colour depending on the particular selection of top/shirt. They also used a dark moody blue colour palette for their wardrobe instead of one that highlights their brand. The combination of blue, charcoal, black and navy hues make this wardrobe a practical one that won't get stained easily. All together the blues and darker tones look striking and professional.
Custom Uniform Shirting
Custom shirting was only made for male staff since the ladies had a large selection of blouses, included in their wardrobe. We created three rather detailed blue custom cotton- blend shirts. A blue Gingham check with solid navy contrast and matching navy buttons. A more sophisticated style blue in a luxurious plain powder blue with navy contrasts including navy buttons. Then, a men's houndstooth weave with navy windowpane check contrast. They also wanted a basic short sleeve shirt in our 100% cotton charcoal to wear in the warmer months.
Women's Blouses
Since black is a universally flattering colour, they chose a selection of black blouses. They also went with silhouettes that will compliment most female shapes. Two long sleeve blouses include the Freya blouse with shirred cuffs and the Madison boatneck that has adjustable. The Aria fluted half sleeve and the Kayla short sleeve are both roomy around the waistline making them a great option for the larger sizes. Finally, the sleeveless Estelle is prefect for the warmer months.
Polos
There are three polos styles, two of which are sportier for the Physical Education staff, while they chose also went with an modern social style with a cotton-blend Edge polo – black with grey contrasting button tab sleeves and a pocket. The sporty polos include the TrueDry navy and blue in both long and short sleeve, made from an advanced moisture wicking fabric with mesh breathable panels under the arms. They also included the RapidCool polo with reflective panels in the grey.
Knits
Like the blouses, they went with all black knits, giving them men and women both a regular cardigan or pullover in a Merino wool blend, and a knit vest to wear neatly over their business shirts, dresses and blouses.
Uniform Dresses
The ladies were lucky to have four very different style uniform dresses added to their wardrobe choice. One of our faves include the Paris wrap dress in black – the all-time easiest teacher uniform dress of the lot to care for with its soft knit jersey that needs no ironing and is designed to flatter a variety of shapes.  The Extended Midi marine blue dress has a forgiving A-line shape and short sleeves with handy side pockets. This is a must-have for all female staff! Two other more elegant corporate uniform dresses are the sleeveless navy Cool Stretch and the Elliott straight dress in charcoal, which both have that have contoured panelling.
Outerwear
When it comes to cool weather, nothing beats puffer vest. So, they have three in their selection for staff – The Stealth Tech Vest, and the Everest Vest in black. Then they went for a more slimline softshell style in navy with a matching jacket. The outerwear is complete with a unisex rain jacket in a graphite shade. They really have staff covered for occasion on the school grounds.
Bottoms
While staff can wear their own bottoms that fit the school's dress code requirements, they still included a pair of trousers the staff could include in their own custom wardrobe if they liked. The men's Cool Stretch slim pant in navy. The ladies pair is our flattering 7/8 cigarette style Elliott pant in black.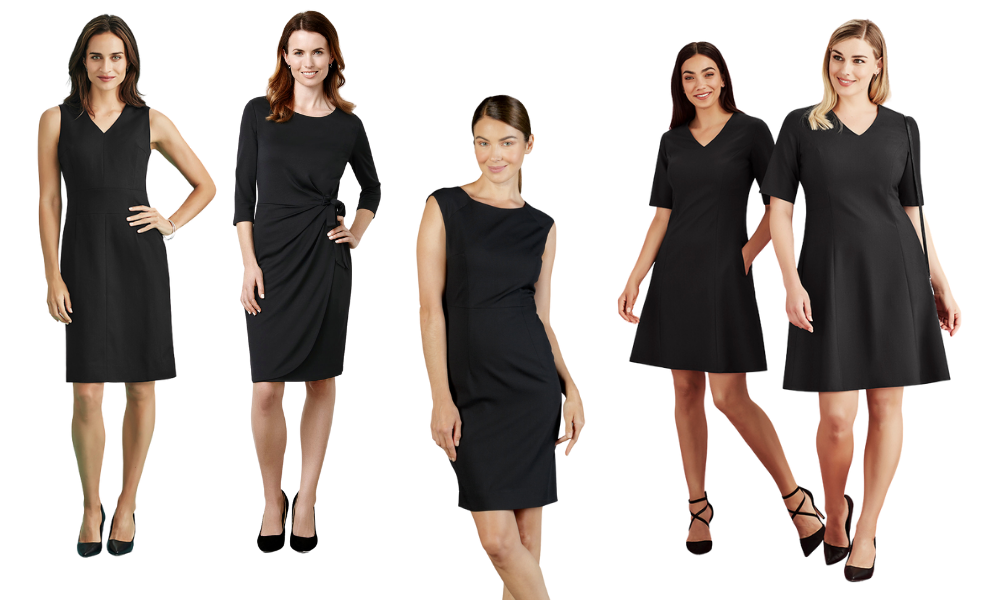 Final Outcome
The Leongatha management have put together a very well thought out extensive uniform wardrobe selection for staff to shop from. Since uniform is compulsory for all staff, they ensured they went for easy to wear colours with styles to suit all body shapes. If students are always in uniform, then it only makes sense, their leaders are also similarly dressed in a smart looking staff uniform.
We love our new uniforms! Everything was prompt and in fact ahead of schedule. The finer details of the package that arrived, especially people's name tags on each item, made the process of the distributing the uniforms to everyone so easy. Such a smooth process in creating uniforms for us from start to finish.
Kellie Farmer – Agent Support & Marketing Harcourts Solutions Group