When City Tempo wanted to deploy a new wardrobe for the team, they still wanted to keep it classic with high-quality garments, but they needed a little edge to keep it trendy enough for all staff to love it. While trying to stand out, however, hotels they must be careful not to offend any of their broad audience of guests. Have a think about the last few hotels you stayed at and how the staff was dressed. You may not even remember. Which is why some hotels are changing things up in the fashion department.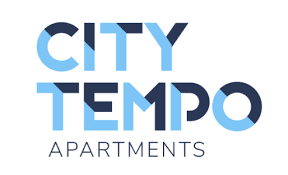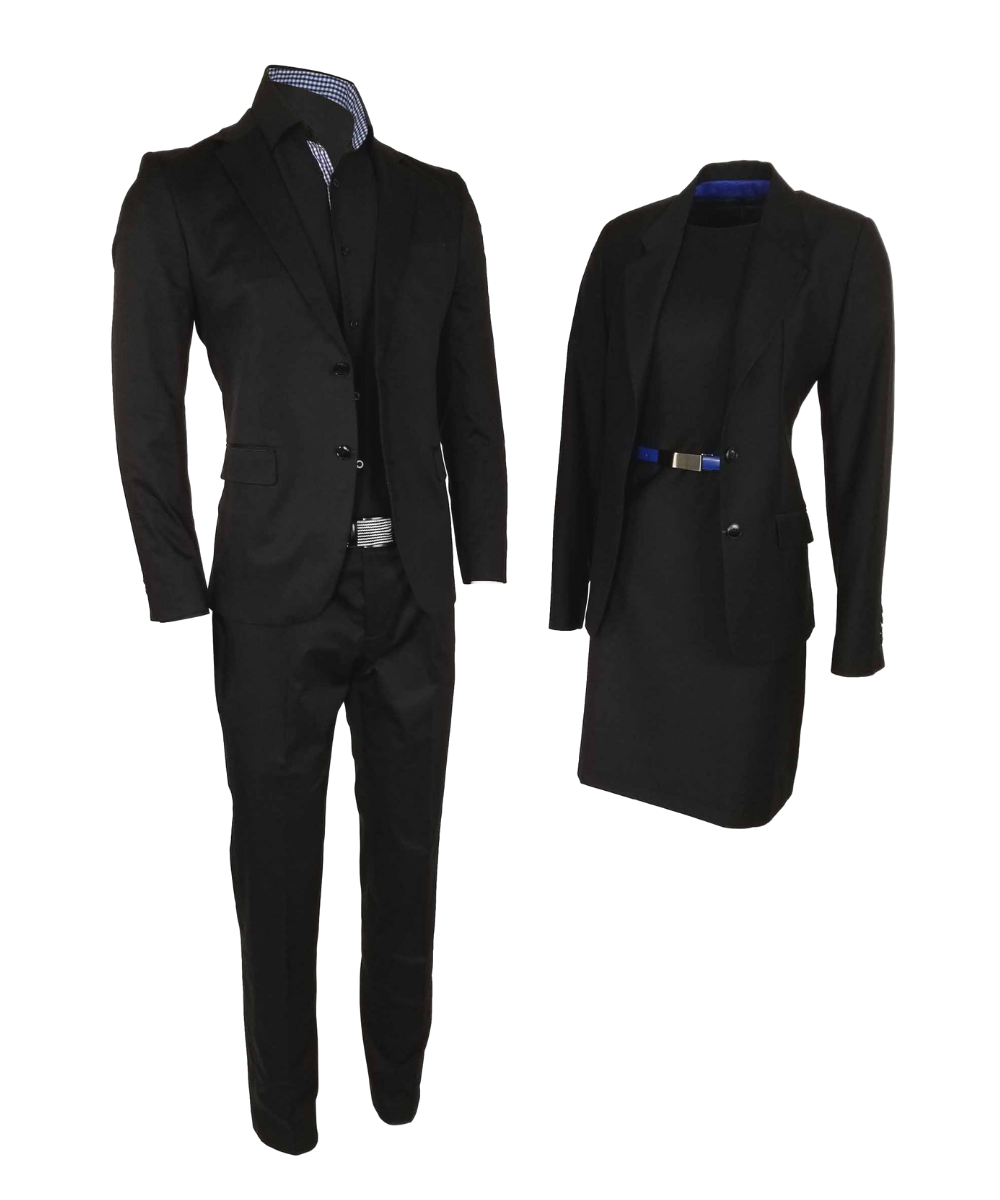 The Brief
We love a comprehensive uniform brief! It challenges us more and allows more creativity. These briefs are usually ones that require an entire uniform wardrobe. A wardrobe where no items can be matched with the wearers own personal clothes from home. In most cases, this is compulsory with hotel establishments. Lately, new hotels are trading in the formal black and white three-piece suits and are making headlines with their hotel uniforms similar to that of the well-known airlines. 
City Tempo is not your typical hotel. Unlike traditional hotels, their signature apartments are a bright and spacious with 1, 2 or 3 bedrooms, ideal for stays as short as two nights. It is a 4 ½ star self-catering apartment hotel where people may stay for longer periods, which allows guests to build a stronger relationship with staff. Guests come for a Melbourne centrally located convenient, comfortable and easy-going hotel environment. It's cleaned every day and comes with all the trimmings except a 24–hour staff or room service.  
To match this modern–style hotel they wanted something that was quite representative of Melbourne. To most visitors that would be "wearing black." So, we pretty much gave them an all–black hotel staff uniform with the edge they were looking for. Here's how we did it: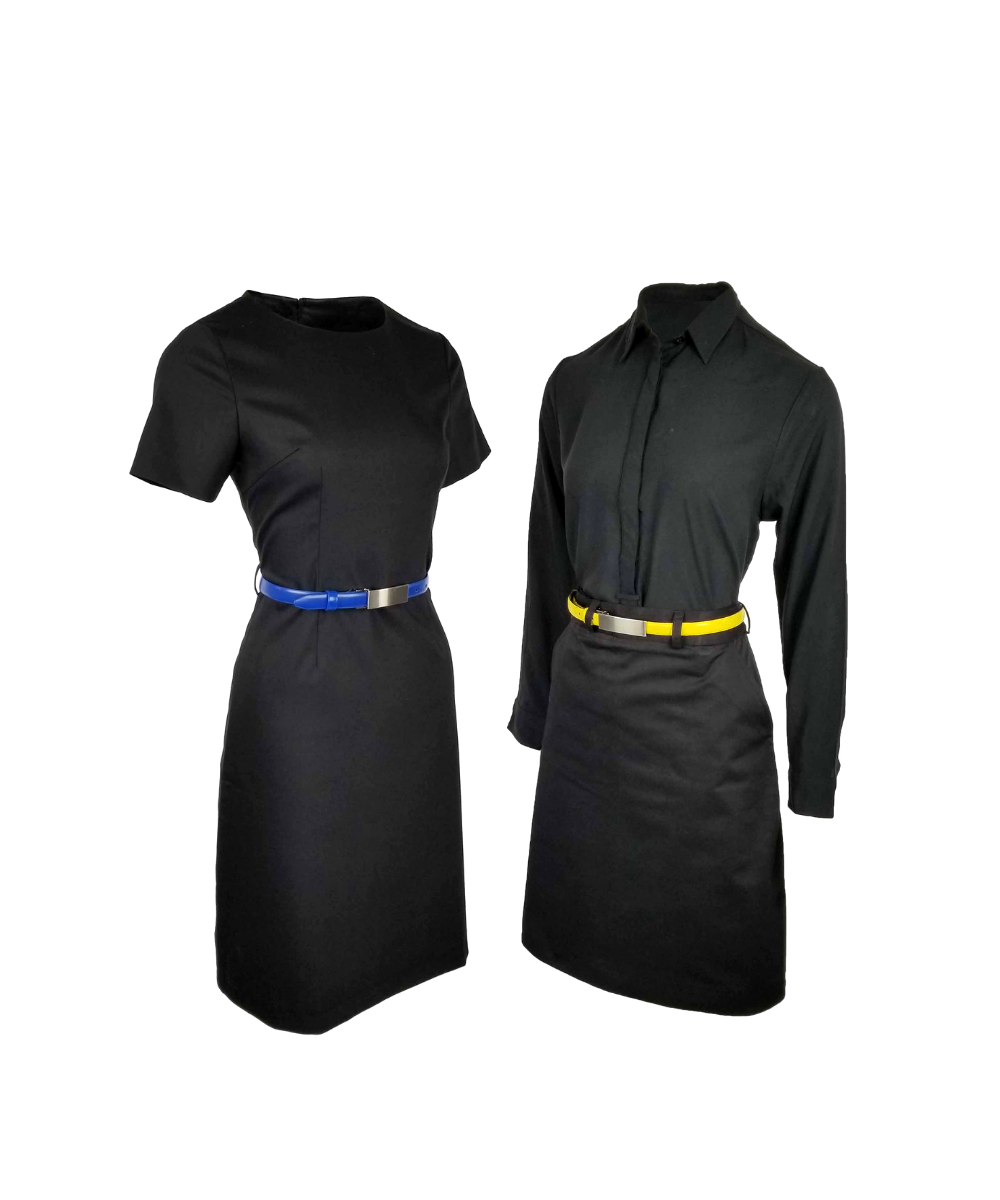 The Design
Their entire collection is black but the different kinds of staff members get different items of black and different accessories to match.  
Front Of House Hotel Staff Uniform 
Men get a modern style suit with cotton sateen

–

weave chinos and a matching jacket. The chinos make it versatile to match with

a s

neaker and still look professionally on point. Then they get a cool jersey white and navy plait stretch-pleather belt. Their black shirt is made to pop with a blue and white check contrast in the collar and placket. The finishing touch was a matching blue gingham check pocket square. Check out how cool this looks!

 

Women that worked front of house got a cute corporate short sleeve

A

-line shift dress which can be worn with an equally cute

corporate

1

–

button crop jacket. For that touch of colour

,

they

wear a

slimline silver rectangle clasp belt in electric blue. The other option for the ladies is to have female chinos pants to match with a black blouse.

 
Management Hotel Uniform  
Managers got a different kind of

"

all

–

black

"

look with a wool blend suit. Their look was kept purely traditional. The trousers being a traditional cut in a wool blend ma

kes

the

ir hotel management uniform

much more formal. Their belt was also a classic reversible classic black/brown leather belt. Sneakers are not an option with this uniform.

 

The women in management got very feminine style blouses all long sleeve with a traditional collar and half button up in the front. The concealed button placket

makes it even more formal. They have the option to match with traditional wool bled trousers or a slight

a-line

corporate skirt. Their uniform gets that extra flare with a canary yellow slimline belt. It looks fabulous!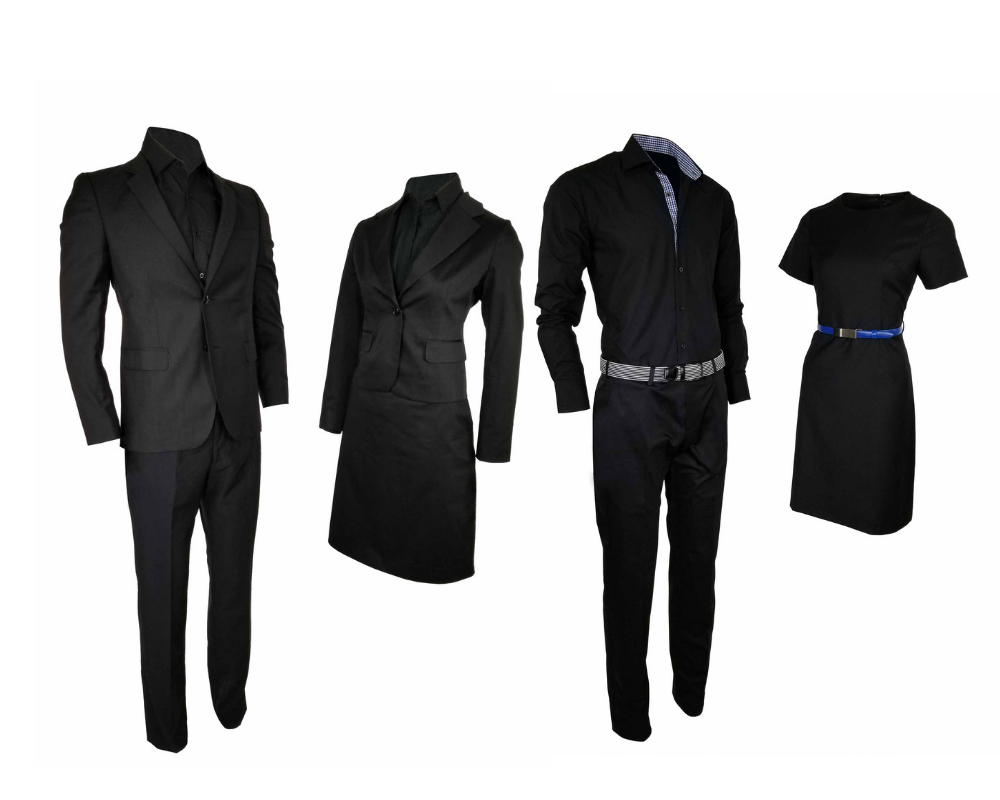 Final Outcome
A sleek all-black design is sure to turn heads be one unforgettable hotel uniform by guests visiting Melbourne. City Tempo gave their patrons the fashion flair they may well have been expecting living up to the "wearing black" high-end sense of style. I'm sure it made it easy for customers to recognise. The staff was also easily distinguished with the front of house looking modern and on-trend, while management kept that traditional sartorial elegance of a hotel staff uniform.