Nathan Contractors is a civil engineering contractor, delivering specialised services in Australia's infrastructure market. For a business that's been around only in the past 7 years, they have grown into a national company considerably fast, working on energy, bridge, roads, dams, water and mining projects, specialising in providing structural concreate services to remote locations. They pride themselves on their strengths to take on the most challenging jobs, in the most adverse conditions.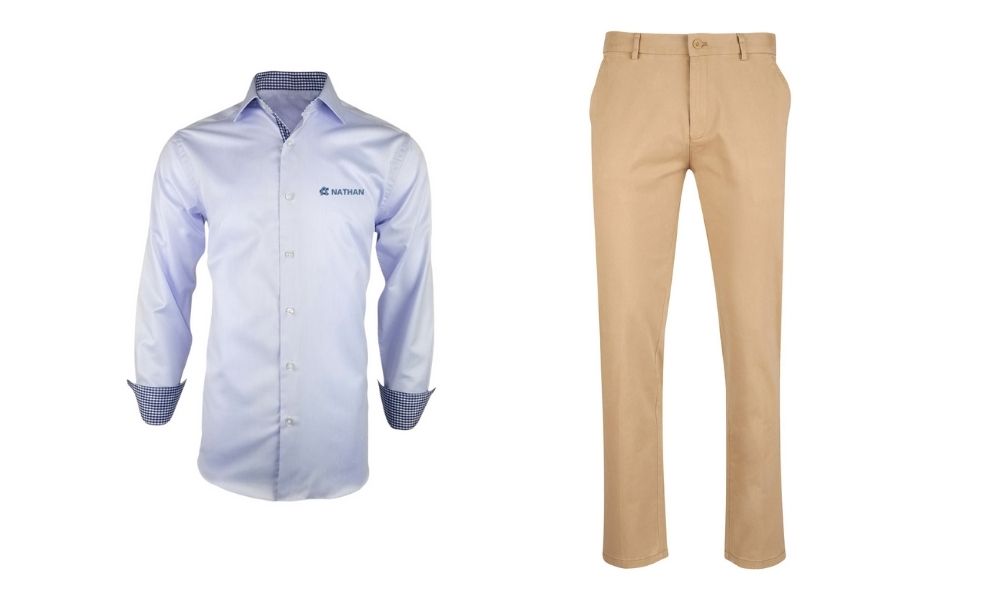 The Brief
With the rapid growth of their brand, as part of that strategy they wanted to maintain corporate fashion harmony among the two office locations, so they decided on an entire uniform wardrobe. In addition to their tradespeople already decked in their high-vis workwear, Nathan Contractors have employees working at their office locations in Brisbane and Canberra. This is what the lucky crew got for their uniform options to make dressing for work every day so much easier.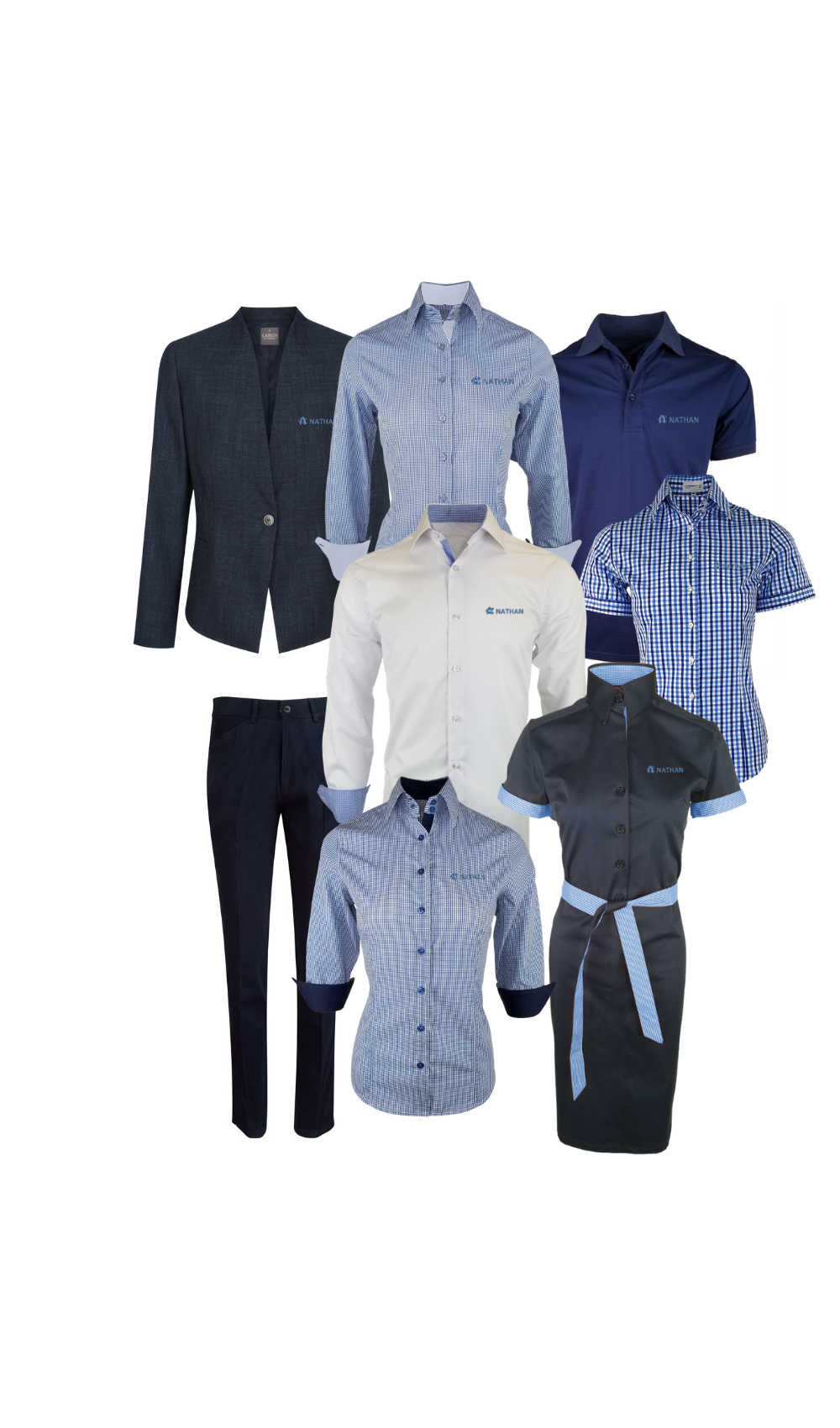 Shirts
Since the NC logo is blue and navy, they chose a moody blue colour palette. Having a moody blue colour palette to work with has great depth and contrasts well against most colours to mix and match with.
The shirt selection is impressive and sure to cater to all tastes of everyone in the company. From navy bold checks, to medium blue mini checks, pale blue with stripe contrast features, and white shirt with mini gingham contrasts. Check out the collection for yourself.
Polos
No uniform wardrobe is complete without a cute polo shirt option. This is great for the warmer seasons and for the comfort of staff that visit on-site project locations. Theirs is a classic plain navy in our 100% mercerised sateen weave cotton.
Blouses and Dresses
The women of Nathan Contractors also have the option or a variety of custom blouses including grey, slate, navy, ice blue, or black in all of the custom blouse styles. Our famous custom shirt dress is also on the menu – in navy with blue gingham contrast to level-up with the shirting range.
Chinos
They kept it simple and went with one chino style for men and women. The Boston chino in navy, black or stone. All colours will match well with all of the shirts and tops.
Jackets
When it gets cold, the crew get a trendy sports style blazer. It's a textured linen-look tailored cut jacket in steel blue with large tan buttons. The men's uniform jacket has a more traditional two-button with notch lapel. The women's is a chic modern angled crop, one-button style with a shawl collar and side jet pockets.
For their members on the move visiting work-sites, there is a super-cosy softshell zip-up weather jumper with a soft fleecy inside, sure to keep a smile on their face while travelling in winter.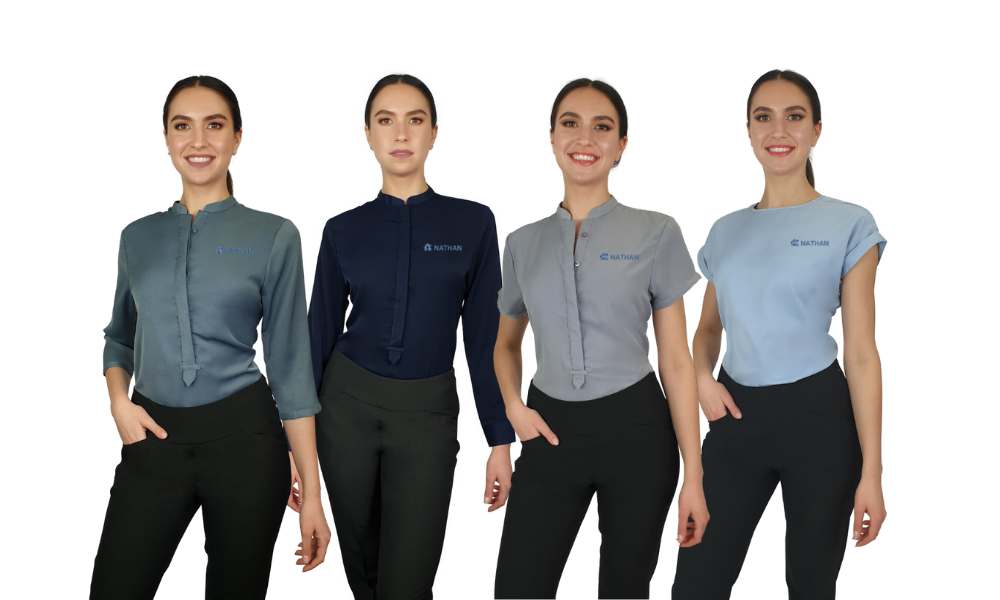 Final Outcome
Nathan Contractors put together a smart capsule wardrobe for their staff members to choose from.  One that aesthetically encapsulates their brand and keeps the team's fashion sense in-line with Nathan Contractor's corporate dress code.
Browse through the gallery of the whole collection.