We were delighted to join DUNK Insurance at their recent corporate event and very proud to dress the team.
Their general look is corporate casual with colours to highlight their branding and match their rural surroundings. DUNK Insurance has a unique point of difference offering regional clients their combined rural experience with expertise normally only associated with larger metropolitan organisations. They have perfectly displayed this with their highly professional selection of uniform looks which they even showcased in their own staff fashion parade.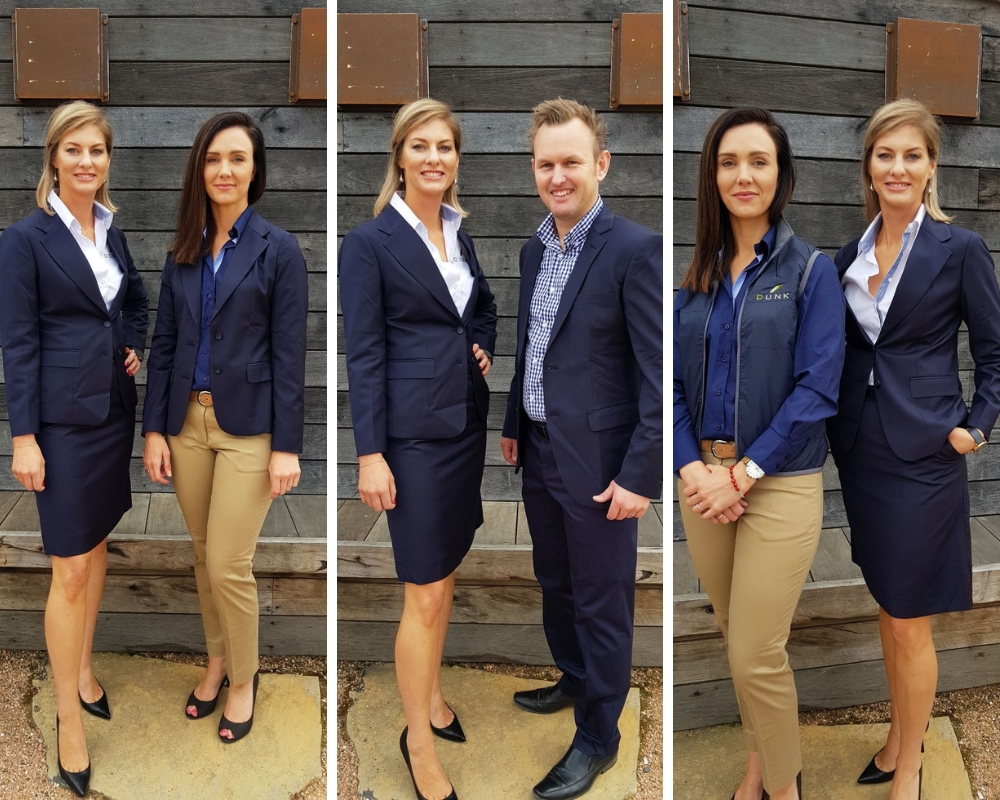 The Brief
With over 30 years-experience, DUNK Insurance is a regionally based General Insurance brokerage with offices located in Young & Cootamundra NSW and representatives in other areas of regional NSW. Their team includes specialist brokers in key areas including Farm, Commercial, Crop & Domestic Insurance. They have a very strong culture for working hard to care and protect their clients. A strong company culture needs the right staff presentation to show them their level of professionalism.
While the DUNK team are not dealing with city slickers everyday, their look still needs to match their environment. Staff also tend to work off-site when visiting clients, so their fashion should be versatile for anywhere from a shopping centre to a farm or building site.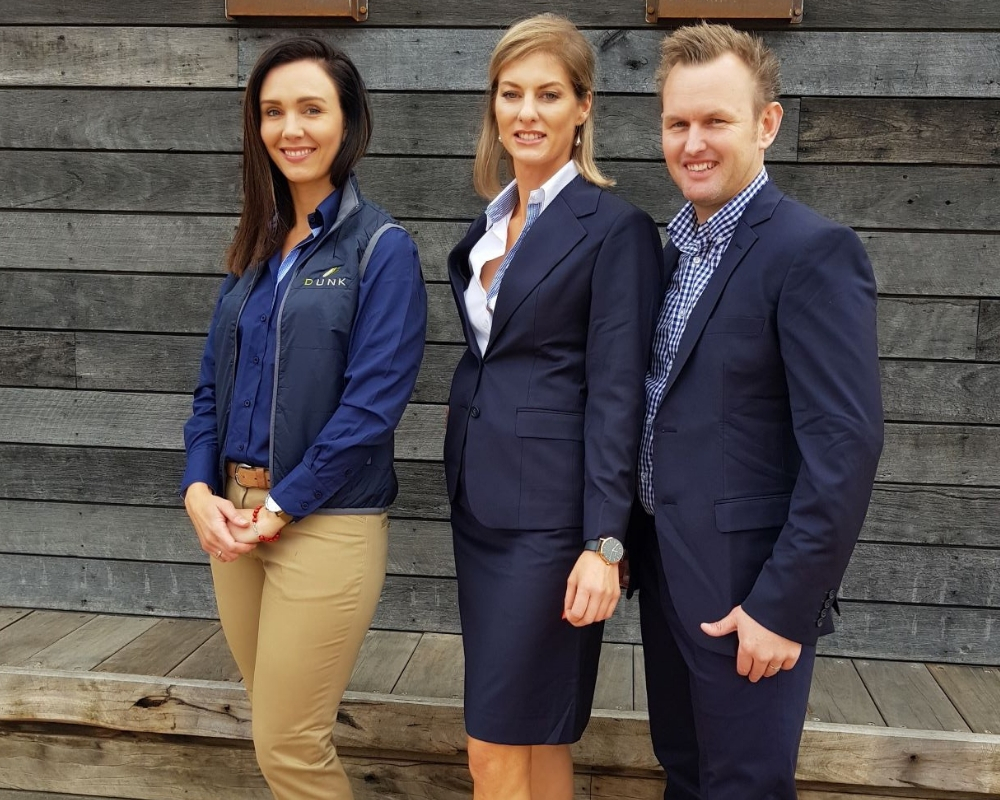 The Design
DUNK's branding colours are earthy with various tones of greens and olives. However, these colours don't suit everyone, so they opted for a blue palette matched with a hint of neutral to highlight their brand.
To present the team as the experts that they are, The Uniform Edit included a range of wool blends suiting pieces in a classic navy, so men and women had the option of a trouser or skirt suit. This would be ideal for first time meetings with large corporations in a more formal setting. The other option for bottoms was a more relaxed style of chino pants in navy or sand for both men and women.
The shirting range was the most important with a variety of options to suit all tastes. Throughout most of the collection all shirts featured tones of the blue colour palette in a poly cotton blend of fabrics. Shirts came in men's long and short sleeve and women's in long, three quarter and short to suit all seasons:
Classic white shirt with a cobalt blue gingham check inside the collar, cuff and button placket.
Navy featuring an elegant light blue micro check contrast and navy buttons.
A very fine textured black and white that gives an overall soft grey tone with a solid black contrast feature in the collar, cuff and placket, finished with black buttons.
The other shirt was a modern and basic design in a cobalt blue bolder check which the guys love!
The women also had additional more feminine pieces with two different chiffon blend blouse options. And of course, women can never turn down one of our statement shirt dresses, so they ordered this in the sleek navy.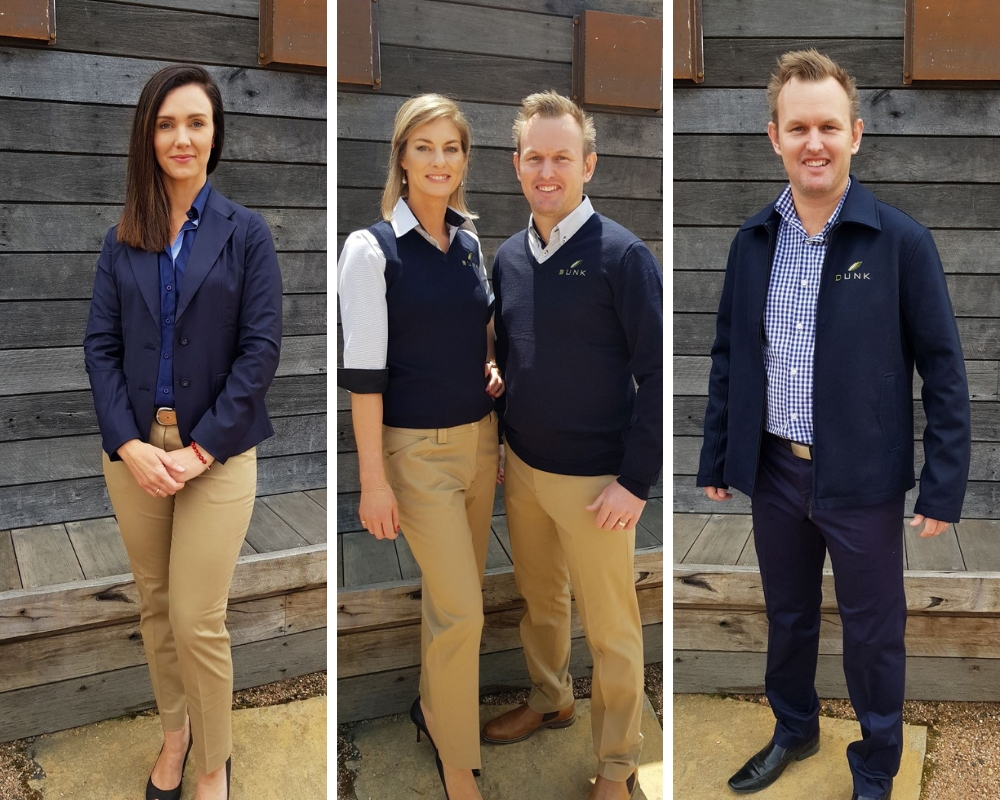 The Final Outcome
With such a strategic wardrobe of well-designed uniform shirts they didn't feel the need for a logo. The colours did the branding for them. It does get very cold in rural NSW so they kept their team cosy with winter wardrobe add-ons including a puffer vest, fleecy high neck zip up jumper, and a knit range in vests and long sleeve cardigans. Then all outerwear was nicely embroidered with their logo.
DUNK Insurance's new work wardrobe is enough to keep the team dressed cohesively all week still empowering individuals to fashion a unique outfit each day of the week. The best part about this collection is in reaching the main objective, which is to allow staff to dress "professionally" for each occasion to match their day. Whether it's a formal boardroom meeting, a visit to a cattle farm – it's flexible enough to complement their warm and friendly approach, yet has the professional attention to detail to suit their slogan – "we make the fine print bold."