Arise Hotels & Apartments are a professional hotel management company with a portfolio of 12 properties including Brisbane's tallest building the Sky Tower, all individually, uniquely exceptional in their own way, but with the same Arise signature of a warm and homely pristine atmosphere.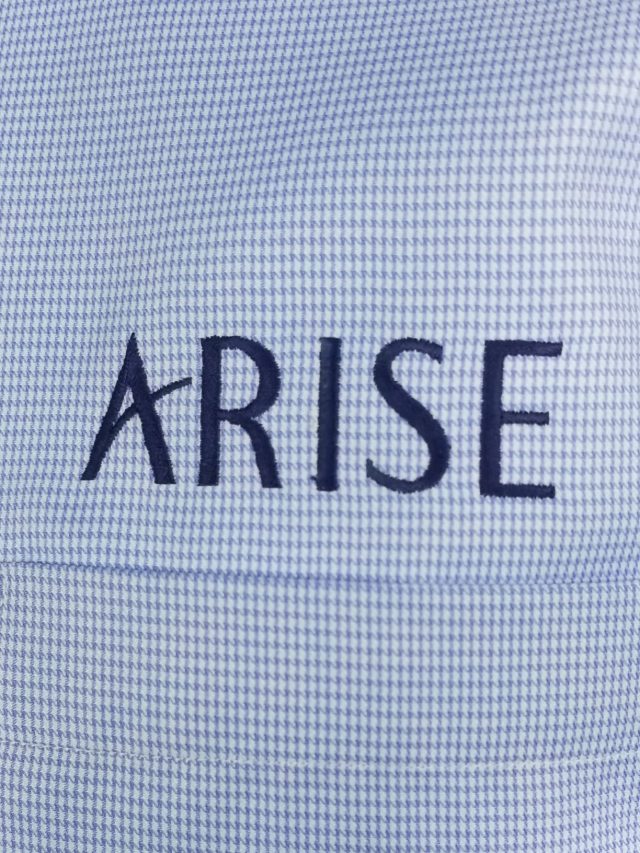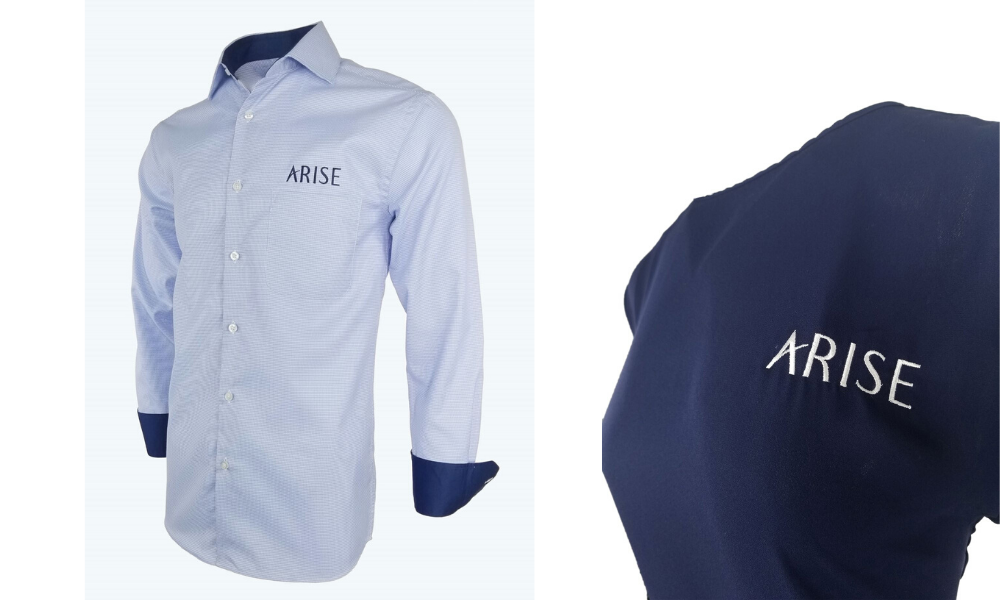 The Brief
Arise wanted a professional hotel uniform that operational staff could wear across all their venues. It needed to be versatile and easy to care for. A fuss-free uniform for men and women working across their various Brisbane hotels and head office. They chose a moody blue colour palette, which is a great option for working in a stressful environment since blue has a calming influence on staff. It also nicely brings out the hint of blue in their logo. As you can imagine, managing and operating several hotels is fast paced and extremely challenging.  
The moody blue palette is a popular choice for many traditional businesses and is a suitable match for any complexion. Arise went with predominantly two colours – light blue and navy.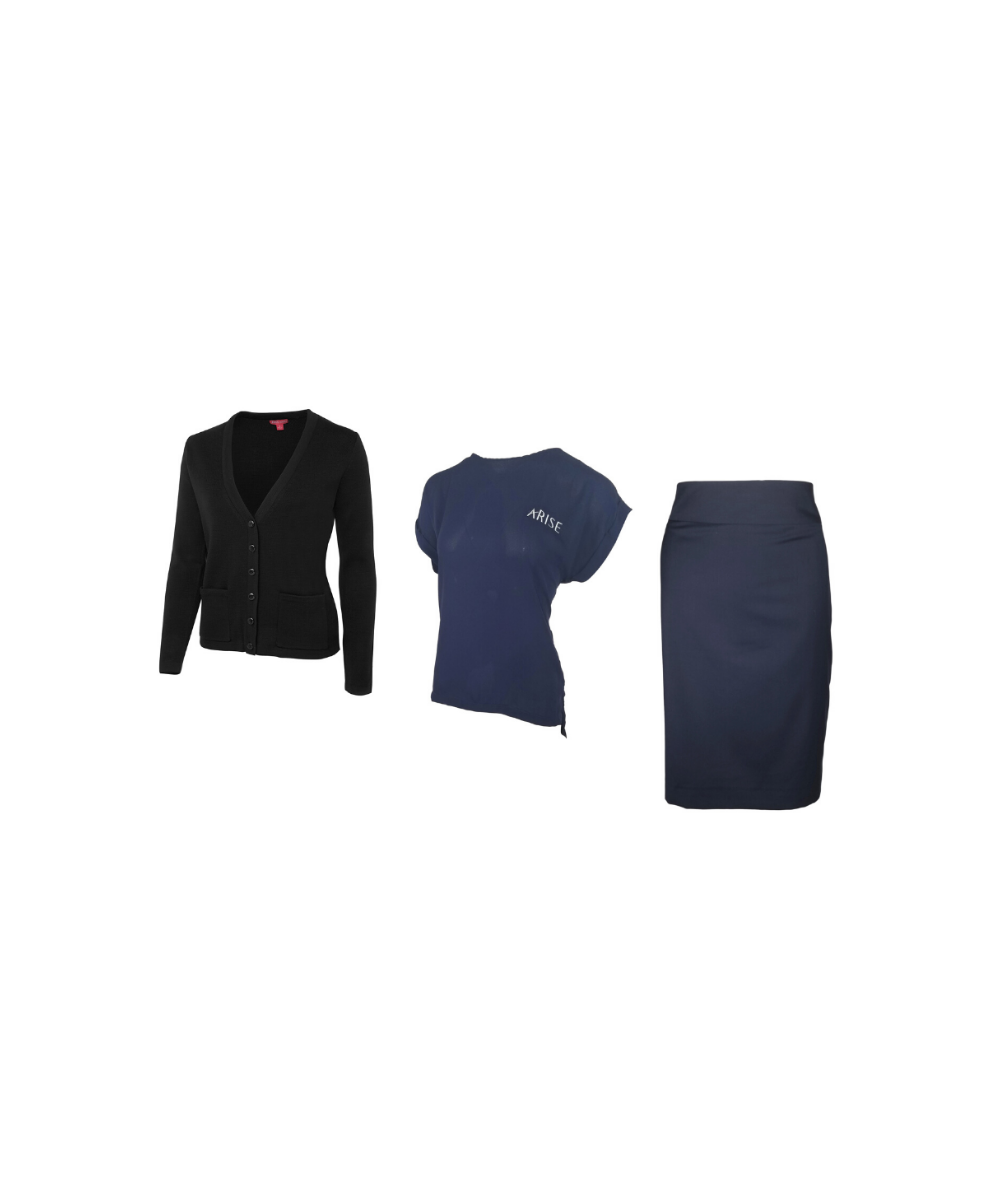 The Hotel Uniform Design
Business uniforms for hospitality ideally need to be universally appealing. Which is why Arise chose blue and navy. All fabrics and colours chosen are elegant and chic which is necessary for the hotel industry, yet it is still comfortable due to the high quality of the natural-fibre blend fabrics.   
The
Hotel 
Uniform Shirt
Our famous Mastercard shirt which has a micro textured houndstooth weave pattern in two–tones of light blue is a standout shirt, with a block navy contrast inside the collar, cuff and button placket. It's finished with navy buttons and their logo in navy. This comes in a men's and women's long sleeve with button cuff. Staff are easily distinguishable in this shirt, yet they still blend in nicely with the hotel surroundings. The shirts are in a poly-cotton blend making them easier to iron while still having the breathable feel of wearing cotton. 
The Women's Uniform Blouses
The blouses are a flattering fit for all women, with a round neck design with relaxed short sleeves.  Arise chose a tasteful French navy colour with a contrasting white logo placed on the left–hand breast side. 
The Uniform Bottoms
All bottoms to match are in navy. The men and women have tailored trousers in a wool blend fabric with a slight stretch element for comfort – highly necessary for their busy and varied roles. Like most hotel uniform wardrobes, the women also have the option of a mid-length pencil skirt in navy. 
The
Hotel 
Uniform Jacket
The navy jacket is made to match the trousers and skirts and formalise the uniform when required or for the cooler months. The jackets are single breasted, two-button tailored in a wool blend. It's the finishing touch necessary for a professional hotel management uniform. 
The Uniform Knits
Not many uniform wardrobes exist without black, including this one. The Arise crew also have the option to wear black knits to keep warm. The ladies get a classic black cardigan, which is always a hit in any office. The men have a stylish black v-neck jumper that can be worn over their hotel uniform shirts nicely.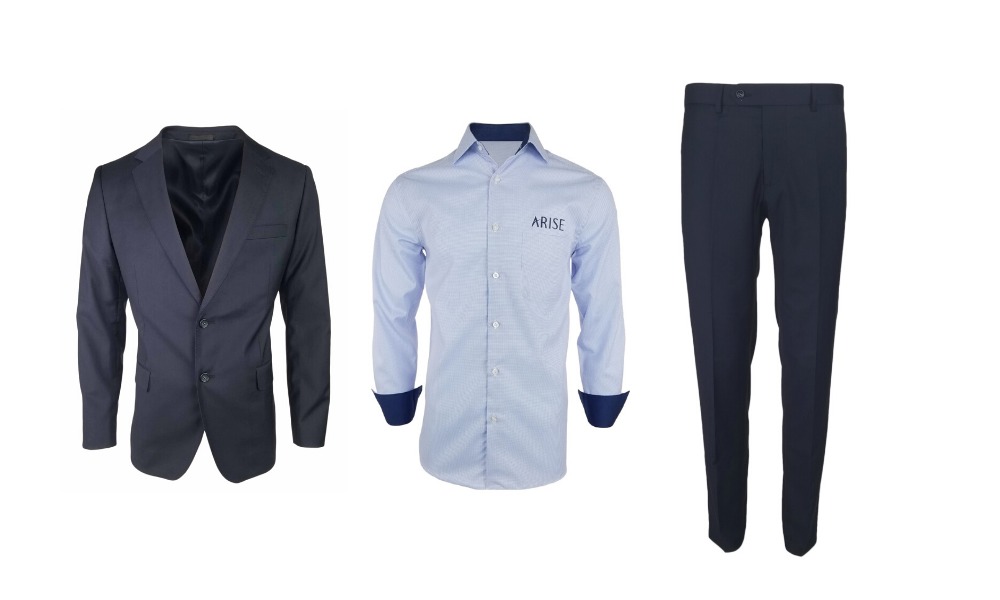 Final Outcome
Arise hotels are the masters of hotel management and operations. They have carefully chosen the ideal wardrobe of hotel staff uniforms to represent their-top end professional team and their brand. Arise are proud to label their corporation a "family style" one, with their guests always of their highest priority. Their uniforms reflect this by making their team all feel part of the family from the way they work together on a daily basis, to the way they dress.